What is Yellowstone National Park Famous for?
Established in 1872, Yellowstone National Park is the oldest and by far the most famous national park in the US. It is an incredible place filled with thermal features such as geysers and hot springs, and an abundance of wildlife living in a largely untouched habitat that you cannot find elsewhere in the United States.
Located mostly in Wyoming, Yellowstone National Park also has portions in both Montana and Idaho to comprise an area of over 2 million acres! That makes it the 2nd largest national park in the contiguous United States after Death Valley National Park. It's so vast, it actually has four different entrances to the park, one in each direction. The closest town is West Yellowstone., just outside of the west entrance.
Yellowstone National Park Map
Here is the map of Yellowstone from the
NPS website
to get you oriented with the park. There are at least five distinct noteworthy areas to be familiar with:
Upper, Mid & Lower Geyser Basin – This is where most of the geysers and hot springs, including the Old Faithful and Grand Prismatic Spring are.
Norris Geyser Basin – A bit further north from the Lower Geyser Basin, this area has the hottest geysers in Yellowstone.
Mammoth Hot Springs Historic District – Further up north is the Mammoth Hot Springs, which is a large thermal area full of travertines and hot springs.
Canyon Village and Grand Canyon of Yellowstone – The 1000+ ft deep canyon carved by the Yellowstone River as it flows north, with its distinct yellow colored rocks.
Lamar Valley  – the vast sub alpine valley where the bison and other wildlife roam in herds and often migrate from one side of the road to other causing traffic jams.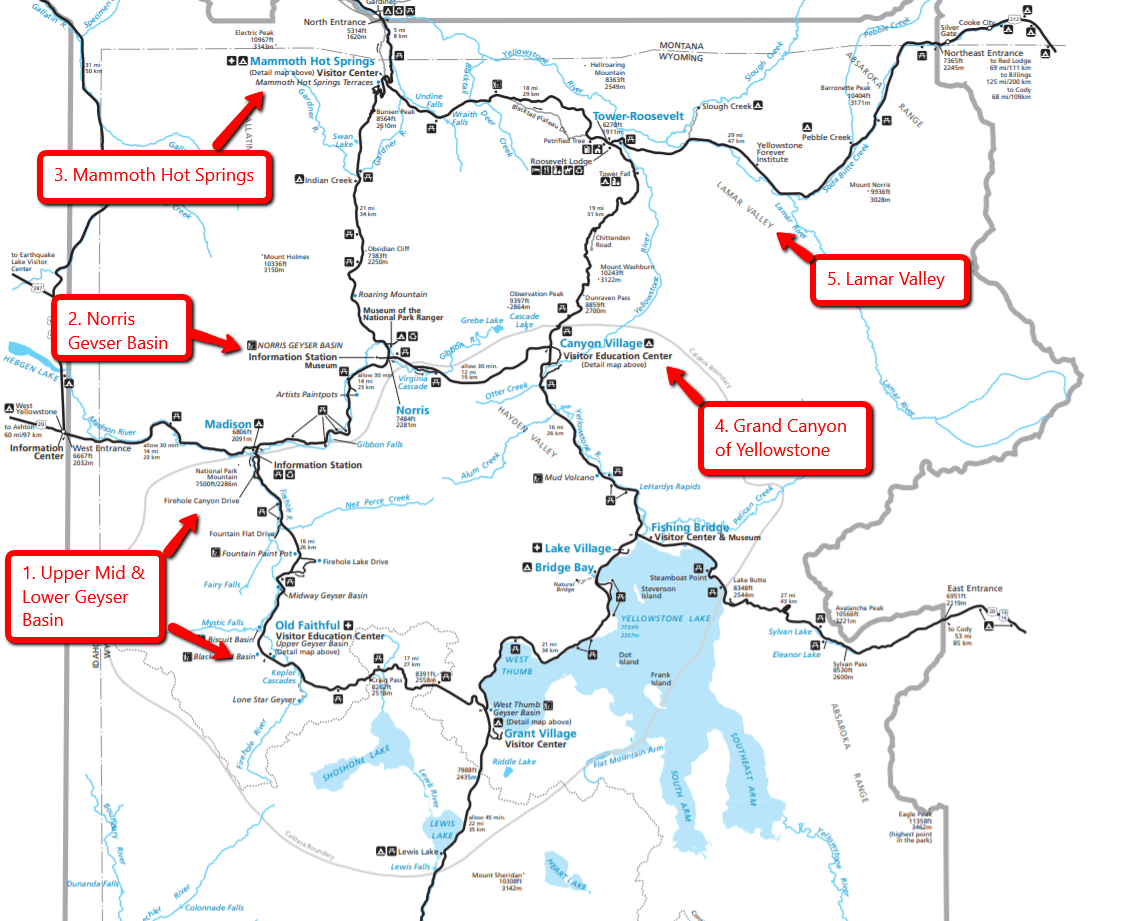 Where to Stay in Yellowstone?
Hotels
One of the best locations to stay in Yellowstone is actually outside the park in the small touristy town of West Yellowstone. It has plenty of hotels, bars and restaurants and is conviniently located just outside of the west entrance of the park. If you'd like to stay inside the park, the best location is the Upper Geyser Basin (Old Faithful Inn) and West Thumb (Grant Village) as they are quite central to the main attractions in the park.
Keep in mind that Yellowstone is a huge park, so regardless of where you stay you will be doing quite a bit of driving everyday. Another great option is to stay in the Mammoth Hot Springs area (Mammoth Hot Springs Hotel & Cabins), which is a great option for its proximity to Grand Canyon, Lamar Valley and of course, the Mammoth Hot Springs, which is in its backyard!
Camping & RV
We stayed at Brandon Iron Inn in West Yellowstone, which has a small RV park in the back known as Pony Express RV Park. Its a great RV park as it's right in the middle of town and has full hookups! During our stay here, we enjoyed going to the Wild West Pizza, the best pizza place in town with live music on weekends.
There aren't very many RV parks inside Yellowstone Parks, and most parks limit the RV length. Grant Village Campground, Madison Campground and Bridge Bay Campground are some great options within the park, in three separate areas within the park. But make sure to reserve your spot well in advance as they tend to sell out quickly. Also note that these campgrounds are seasonal and close down during winter. Make sure to check the dates here. 
How many days to spend in Yellowstone?
With over 2 million acres, Yellowstone National Park is huge! You can easily spend several weeks exploring the different areas in the park. If you're like most people though, you likely do not have weeks to spend in a single park.
We recommend spending at least 3 full days here. This will give you enough time to explore the three distinct features of the park each day – the geysers, hot springs and thermal features, the vast sub alpine valleys with sprawling wildlife, and the Grand Canyon of Yellowstone.
Many people opt to spend a whole week exploring both the Grand Teton and Yellowstone National Park in a single trip. With these two parks being only 80 miles apart, it certainly makes a for a logical itinerary to combine them in a single trip. We spent 5 days in Yellowstone, after spending an equal amount in Grand Teton. Below is our day-by-day itinerary.
DAY 1
: EXPLORE GEYSER BASINS IN YELLOWSTONE CALDERA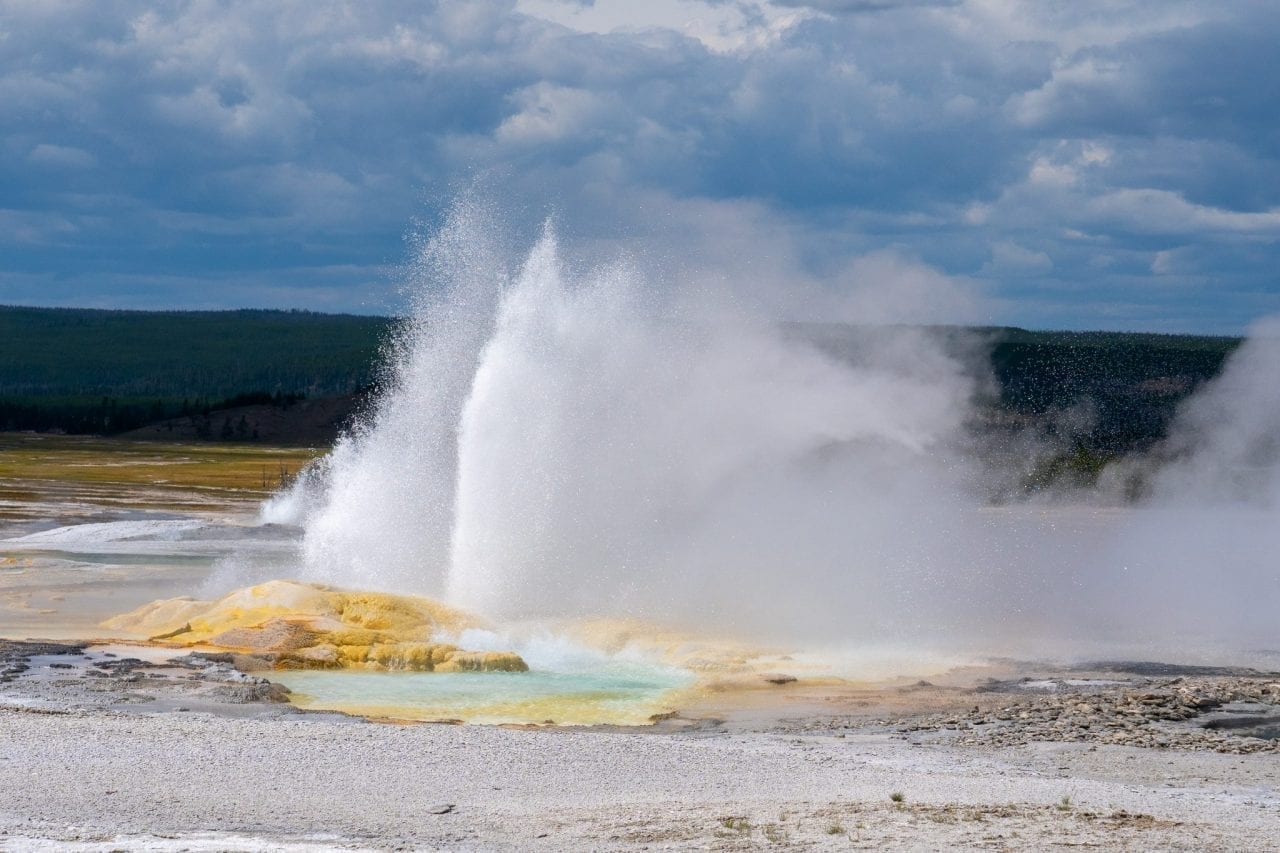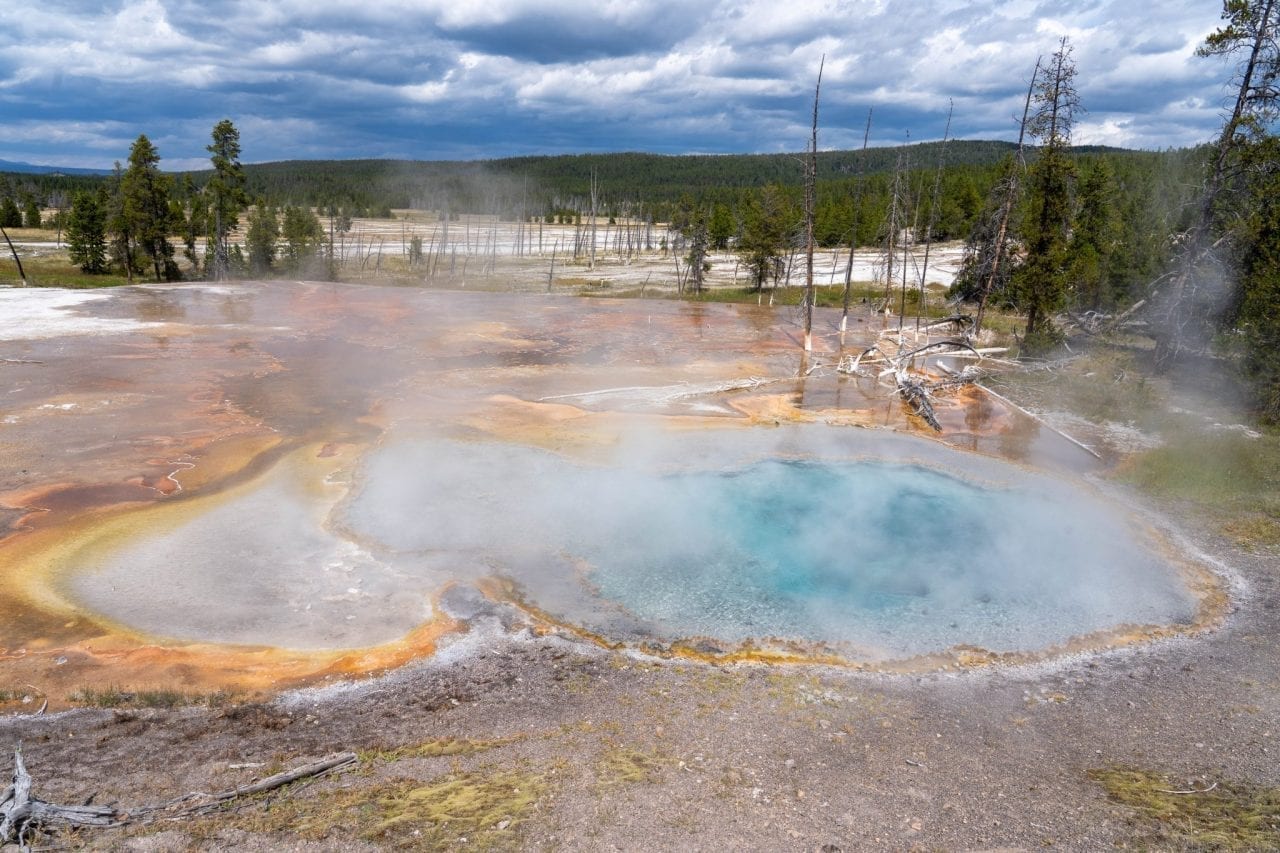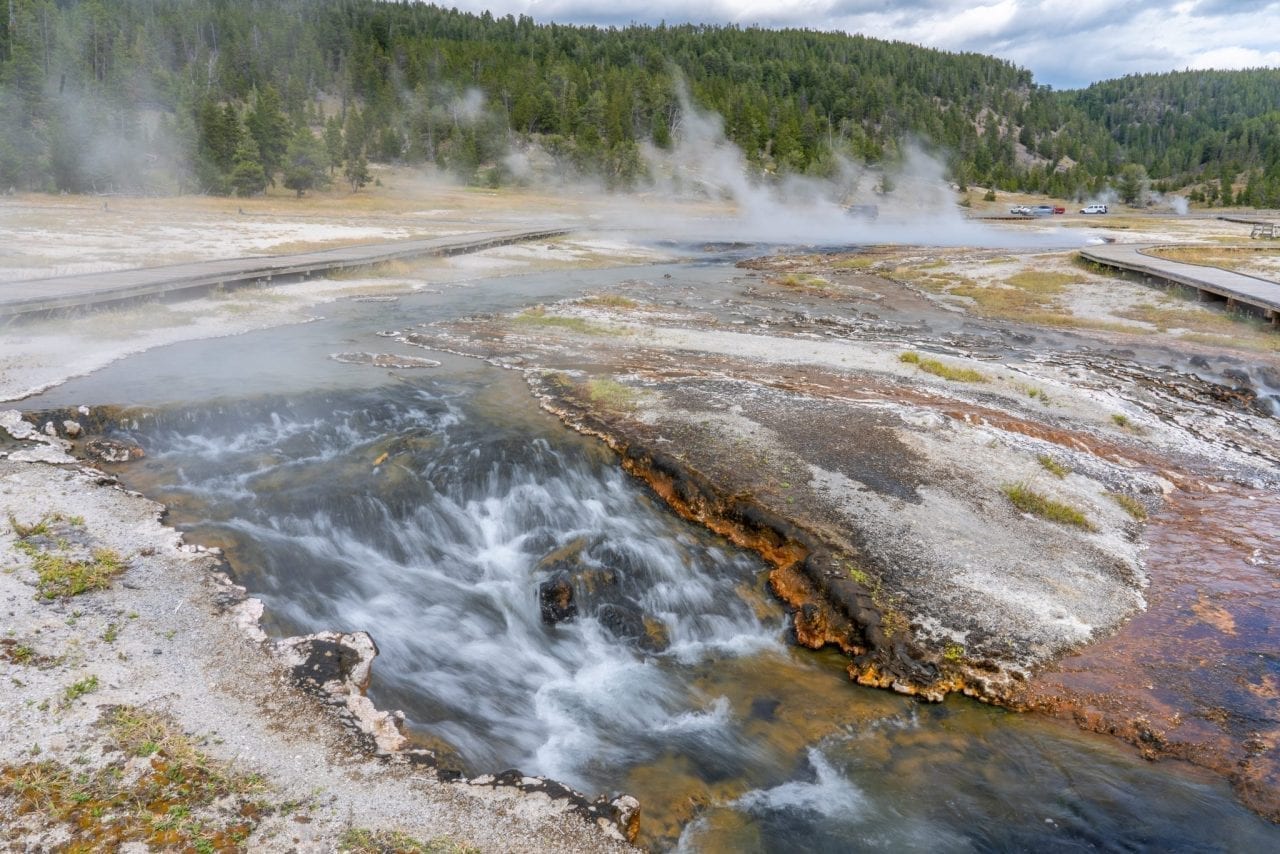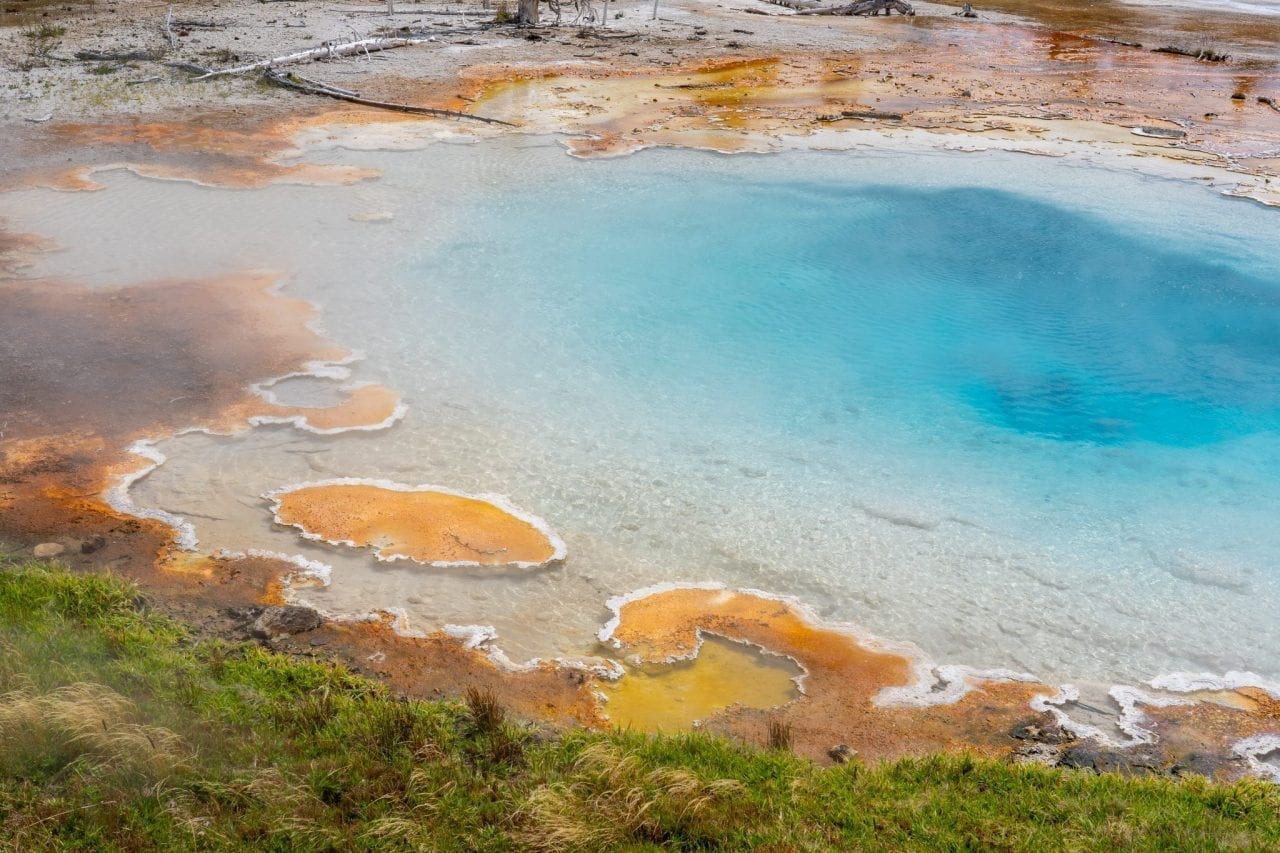 There are over 10,000 thermal features in Yellowstone including at least 1,283 geysers. Almost half of the worlds geysers can be found in the park – more than anywhere else in the world. And within Yellowstone, most of the geysers can be found in the Upper, Midway and Lower Geyser Basin – collectively referred to as the "Geyser Basin".
Visiting this area will probably be one of the very first activities in Yellowstone, and to help you plan your visit check out our post on the Top 5 Geysers in Yellowstone for tips to plan your day.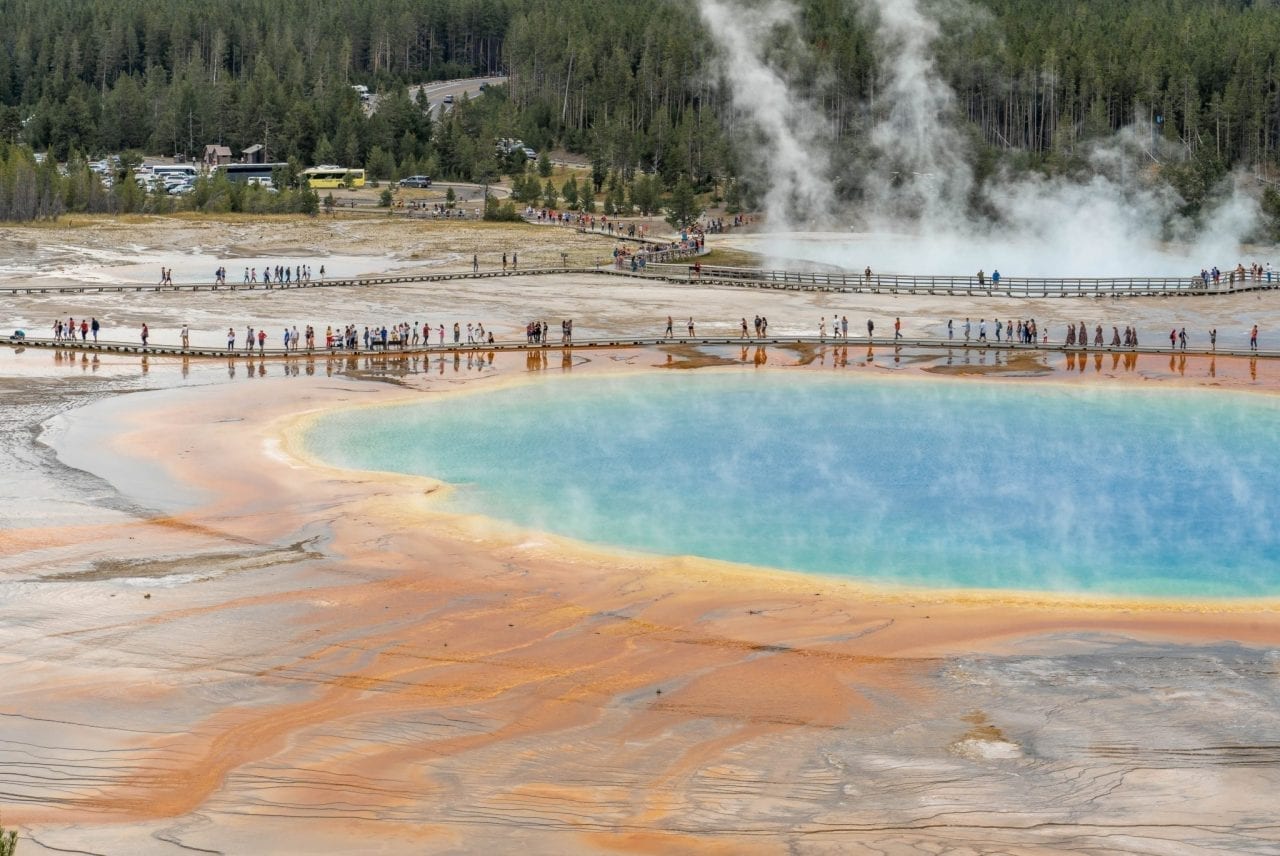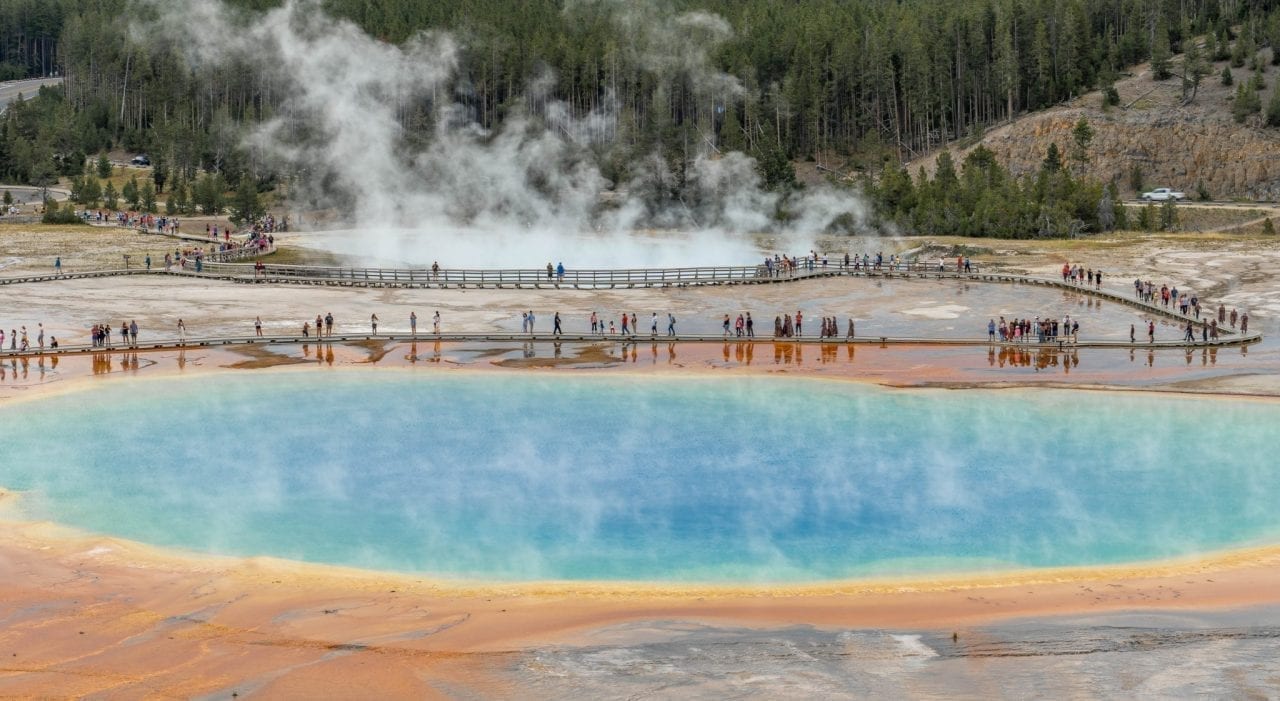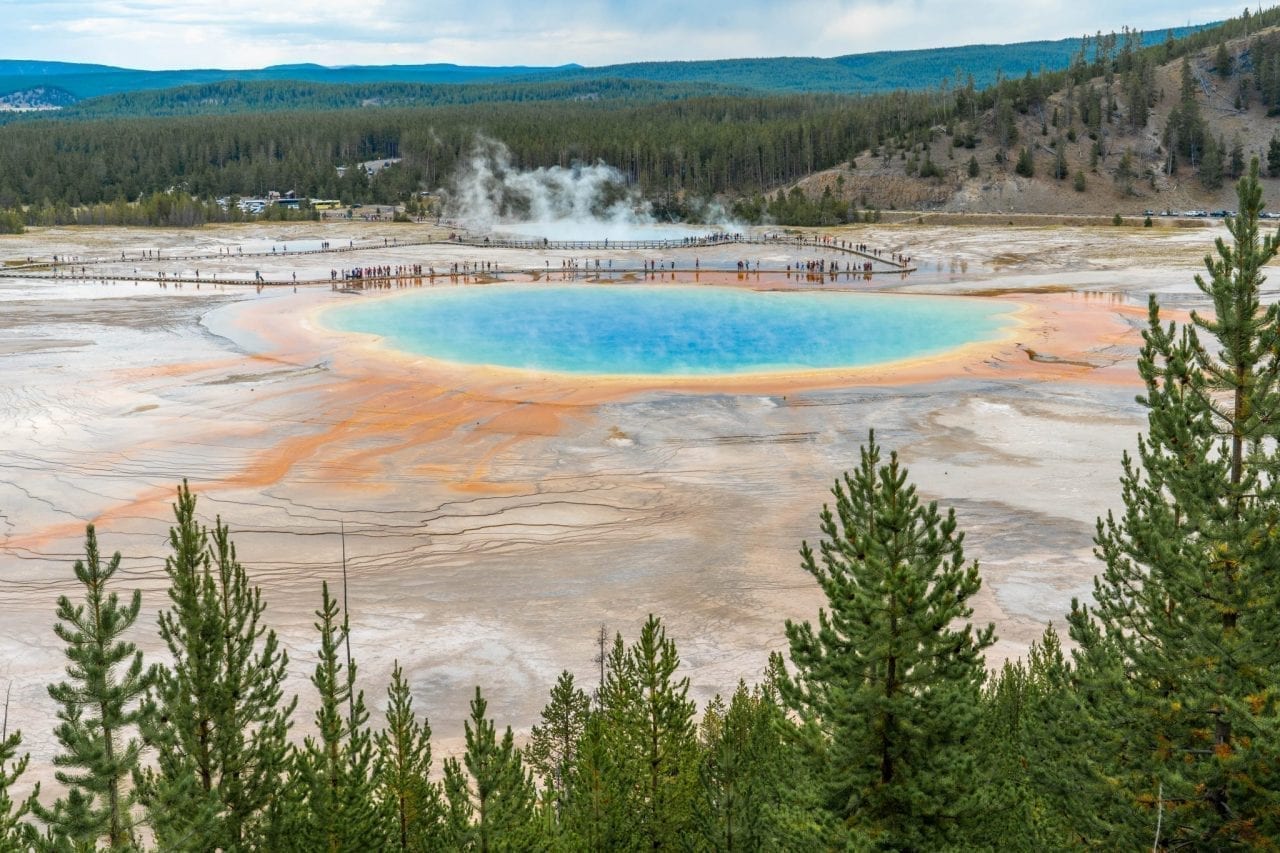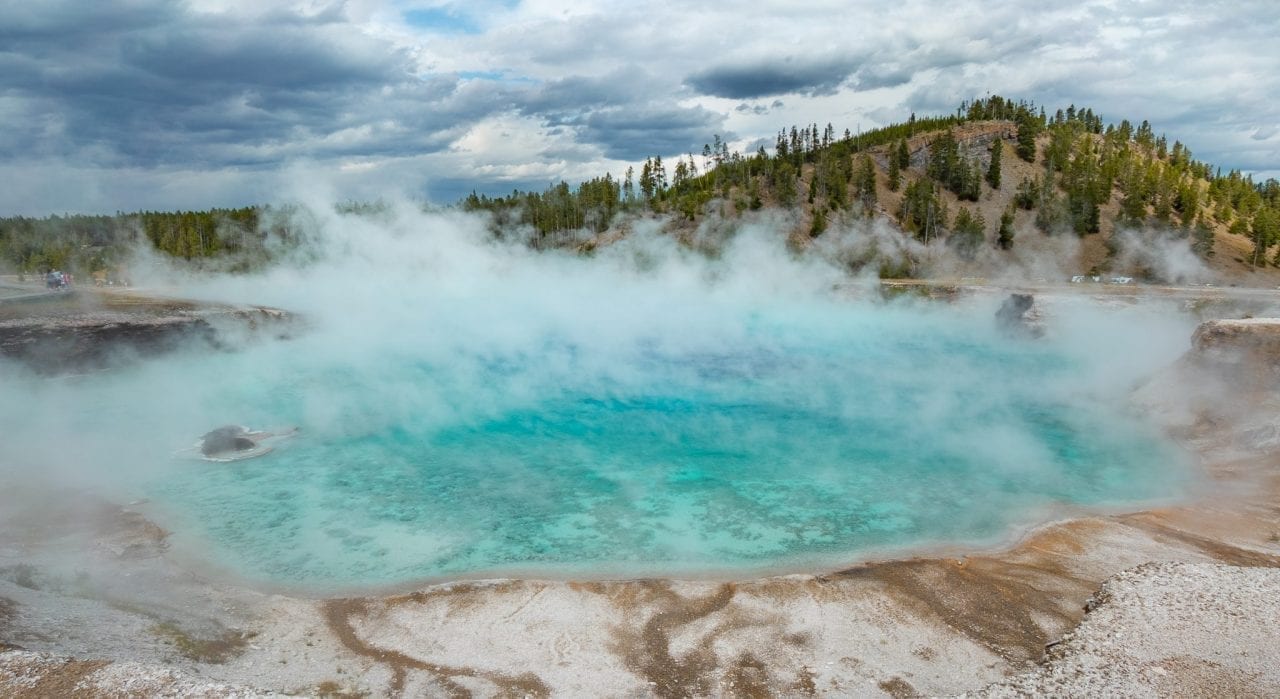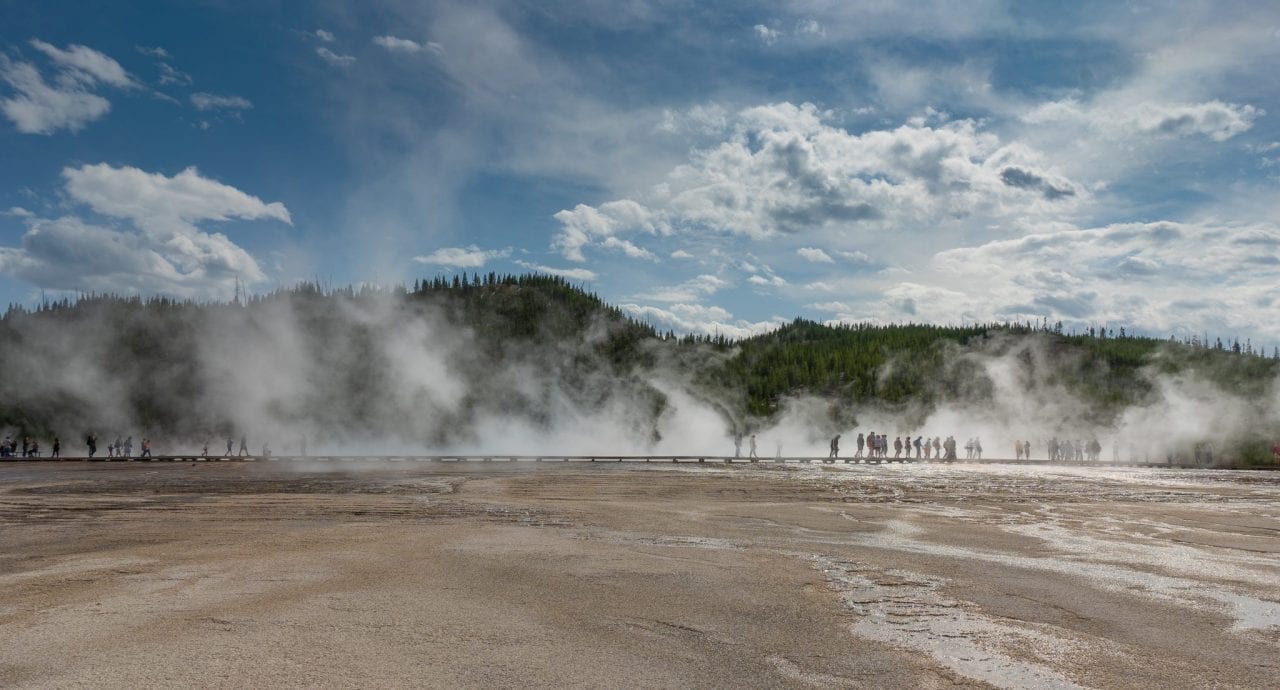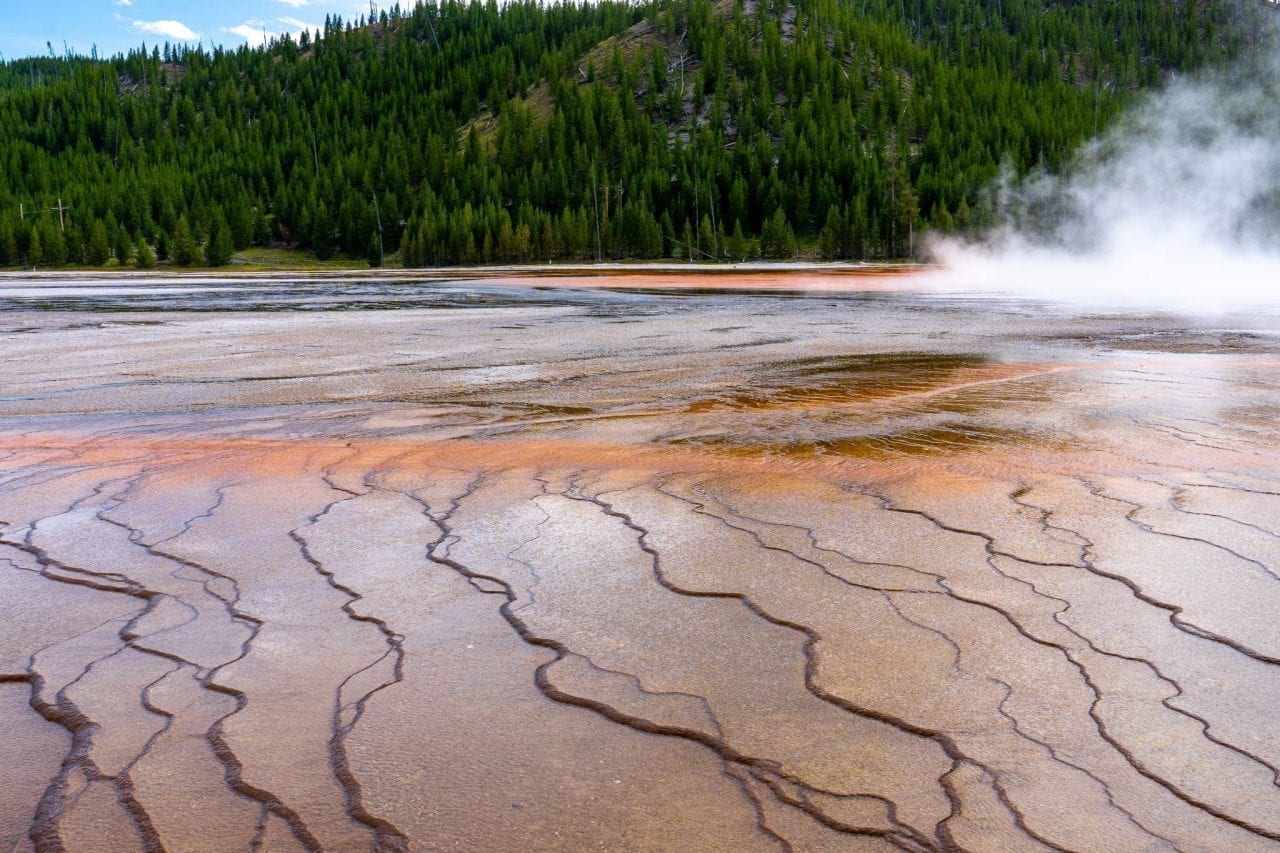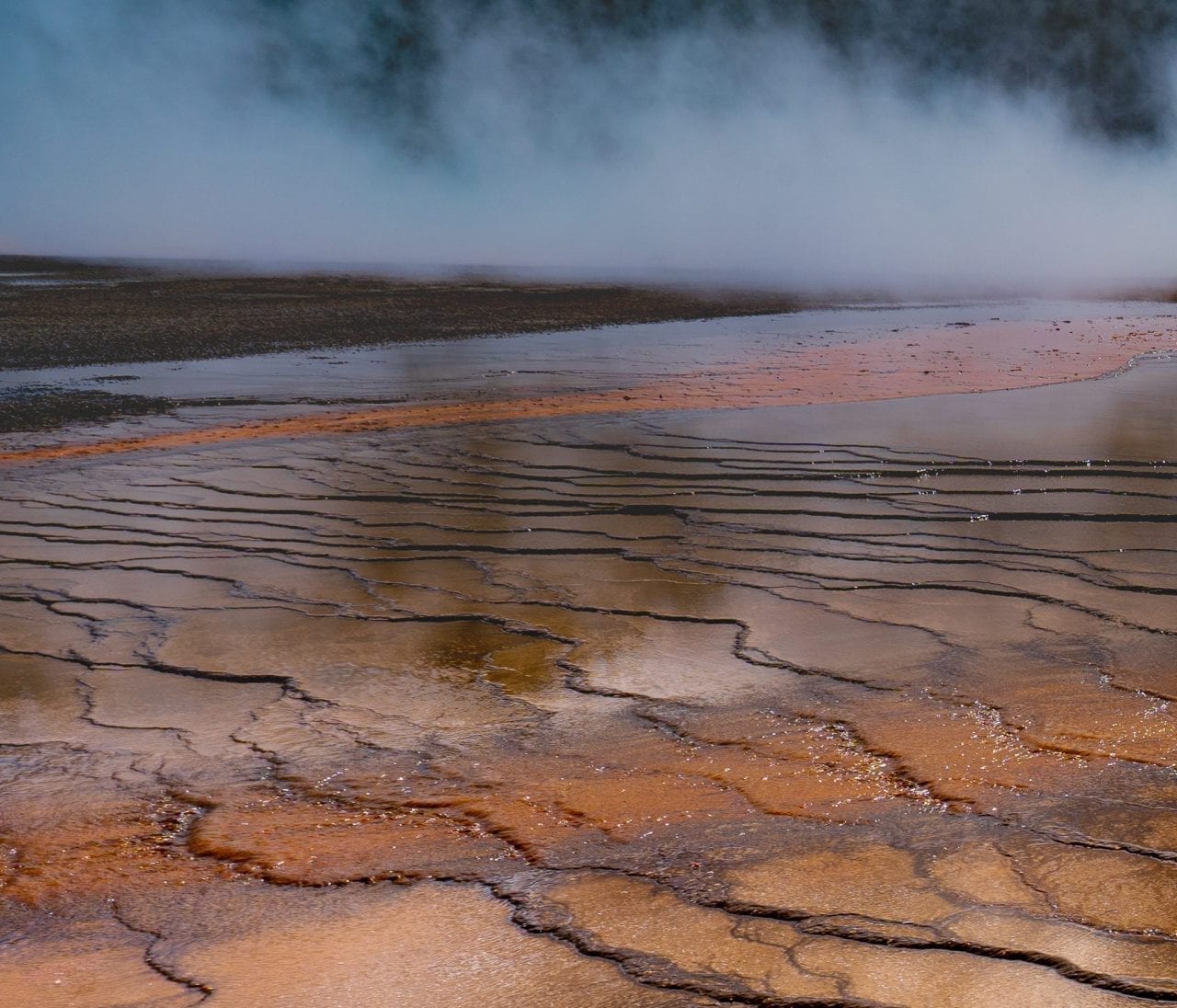 One of the most colorful scenes in the park, Yellowstone's Grand Prismatic Spring is the largest hot spring in the United States. It's approximately 370 feet across and has a depth of 121 feet in the center. But the size is irrelevant to its fame because it's the rainbow colors in the water that really bring people here for photographic opportunities.
Crimsons, yellows, blues, and even greens explode like a cutaway of an everlasting gobstopper throughout the pool. These colors are all caused by colonies of thermal-loving bacteria that change the water's hue. But don't let the presence of life in this water tempt you to try and touch it; the water is over 160°F and is filled with microbes you'd rather not be on friendly terms with.
DAY 2: VISIT THE UPPER GEYSER BASIN & HIKE TO MYSTIC FALLS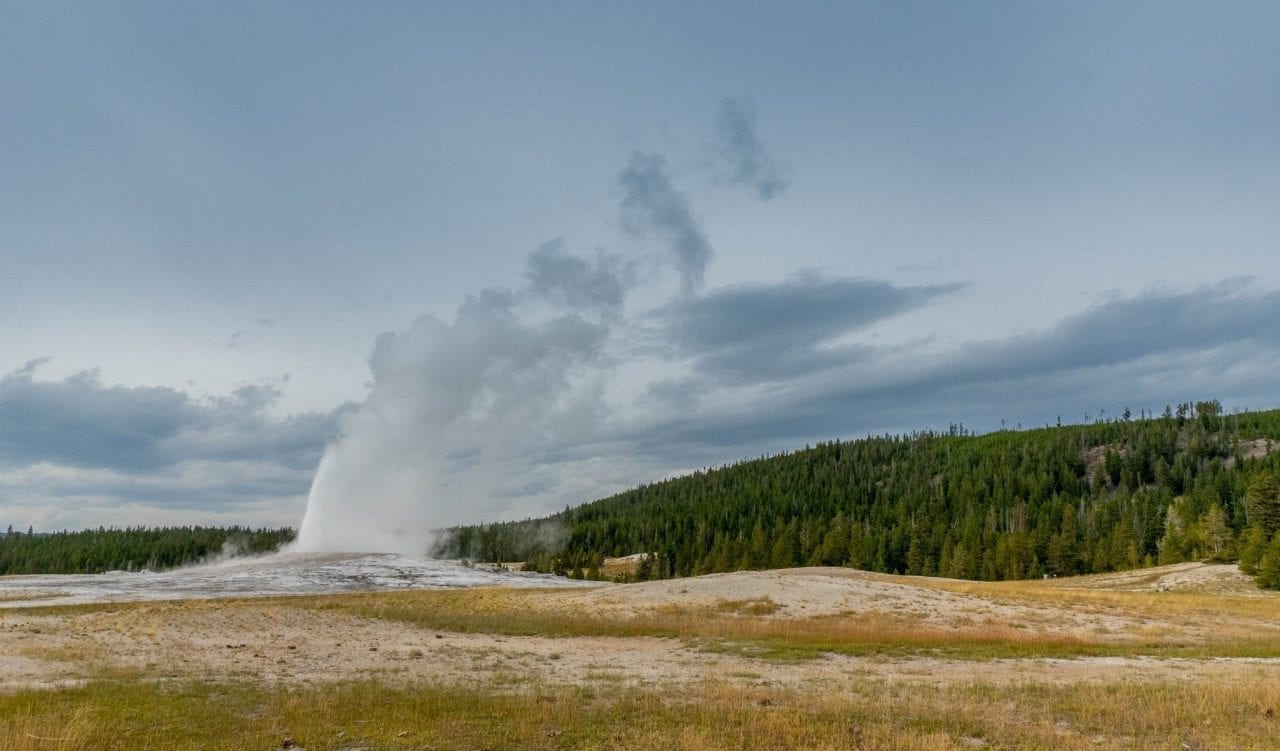 The most famous of geysers in Yellowstone is Old Faithful, a cone guiser located in the upper Wyoming section of the park. On average the geyser erupts every 90 minutes in durations ranging from a minute to over five minutes long. Each discharge is estimated to throw almost 4,000 gallons of water over 150 feet high.
According to probes dropped 72 feet down the cone of the geyser, the water temperature at that depth averages about 250°F. Despite the boiling water, it's perfectly safe to view and remains one of the most popular attractions in the park.
Although Old Faithful is the most predictable geyser, and attracts herds of tourists, there are several other hot springs and geysers in the Geyser Basin that we thought were equally if not more interesting.
Biscuit Basin & Mystic Falls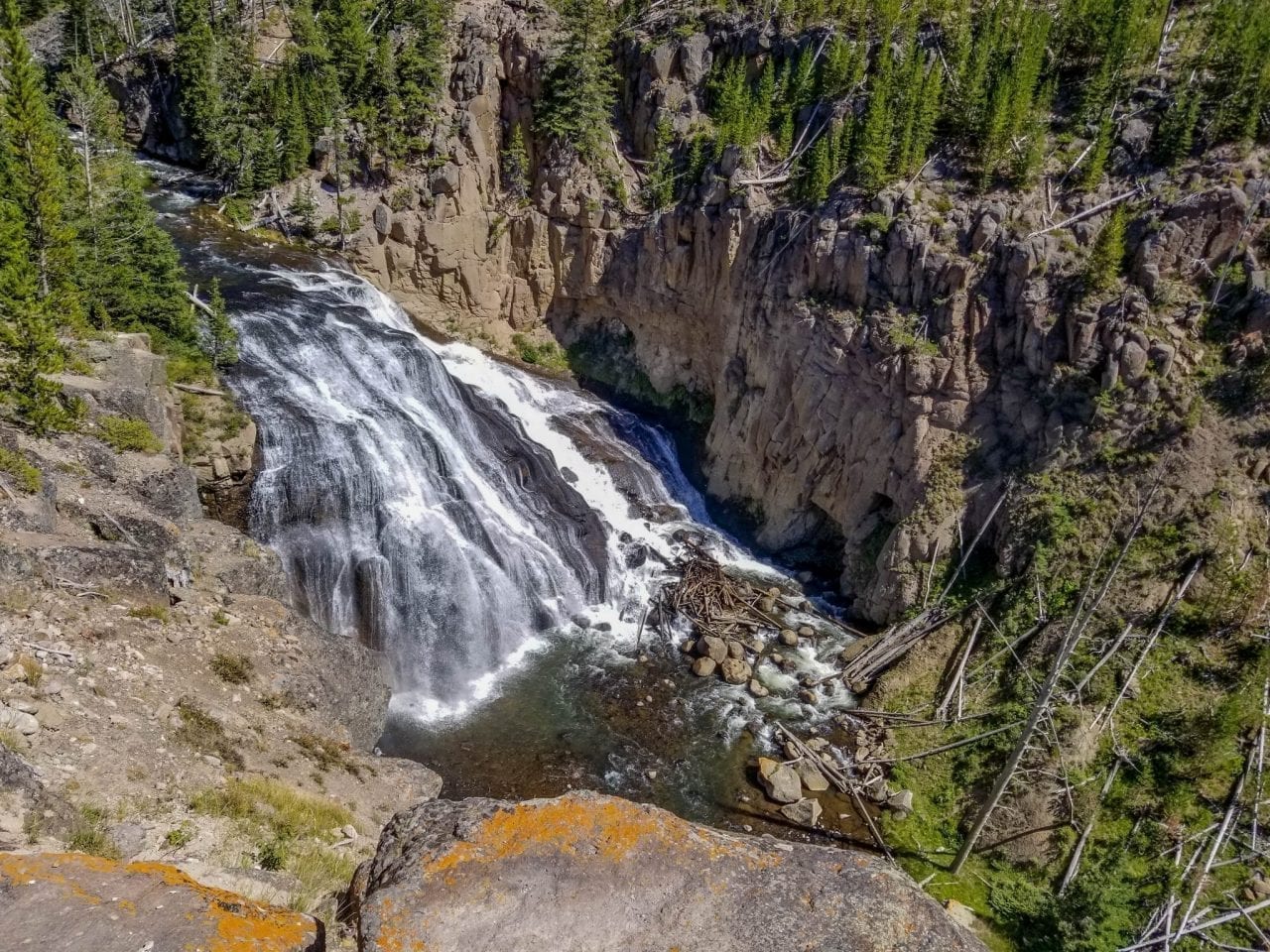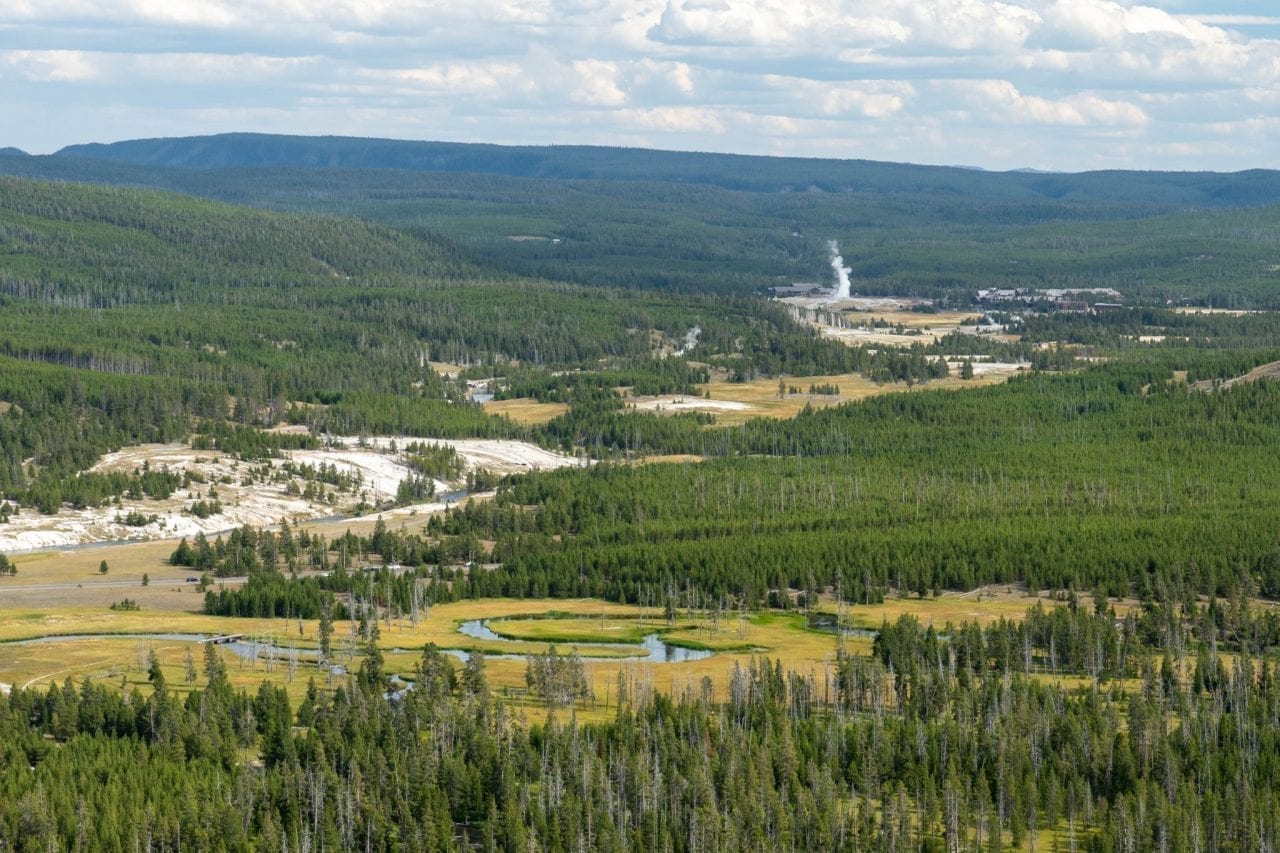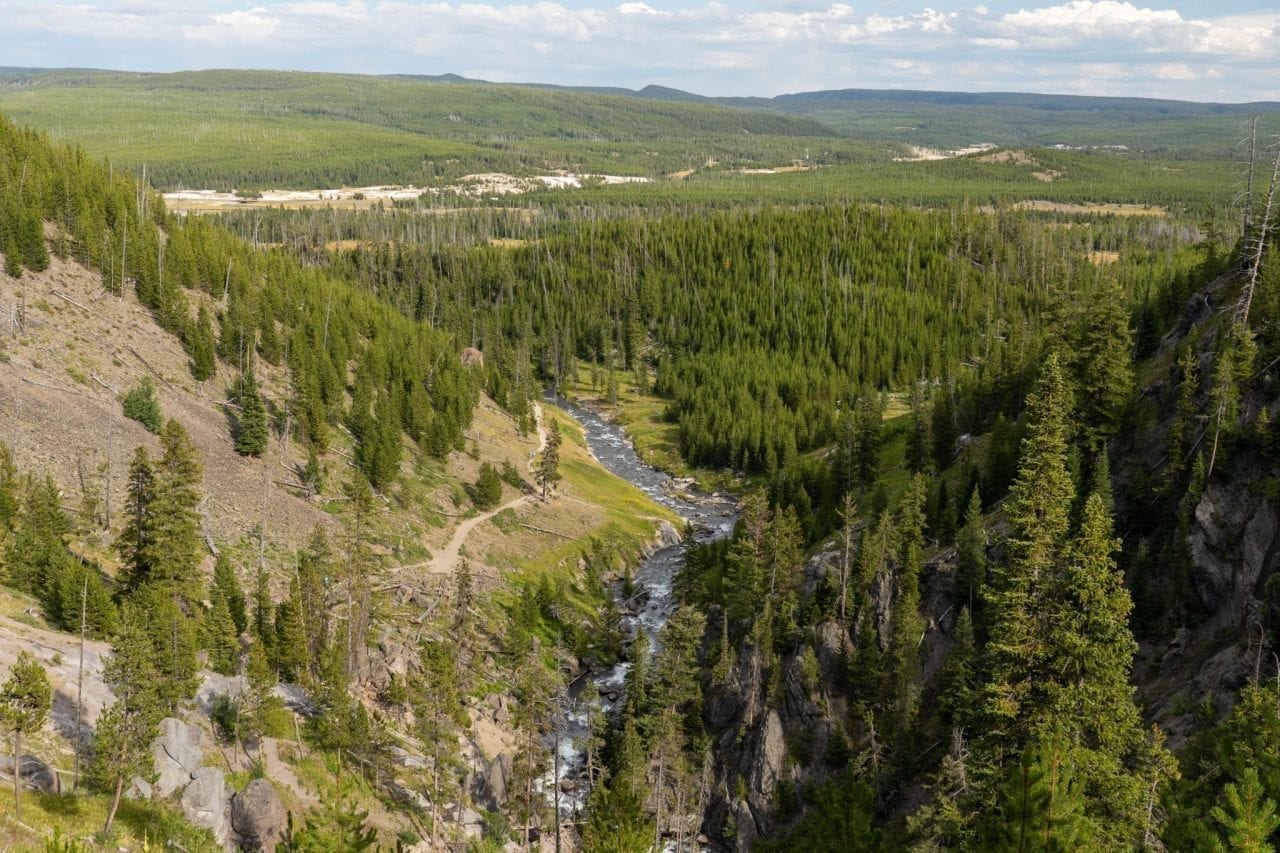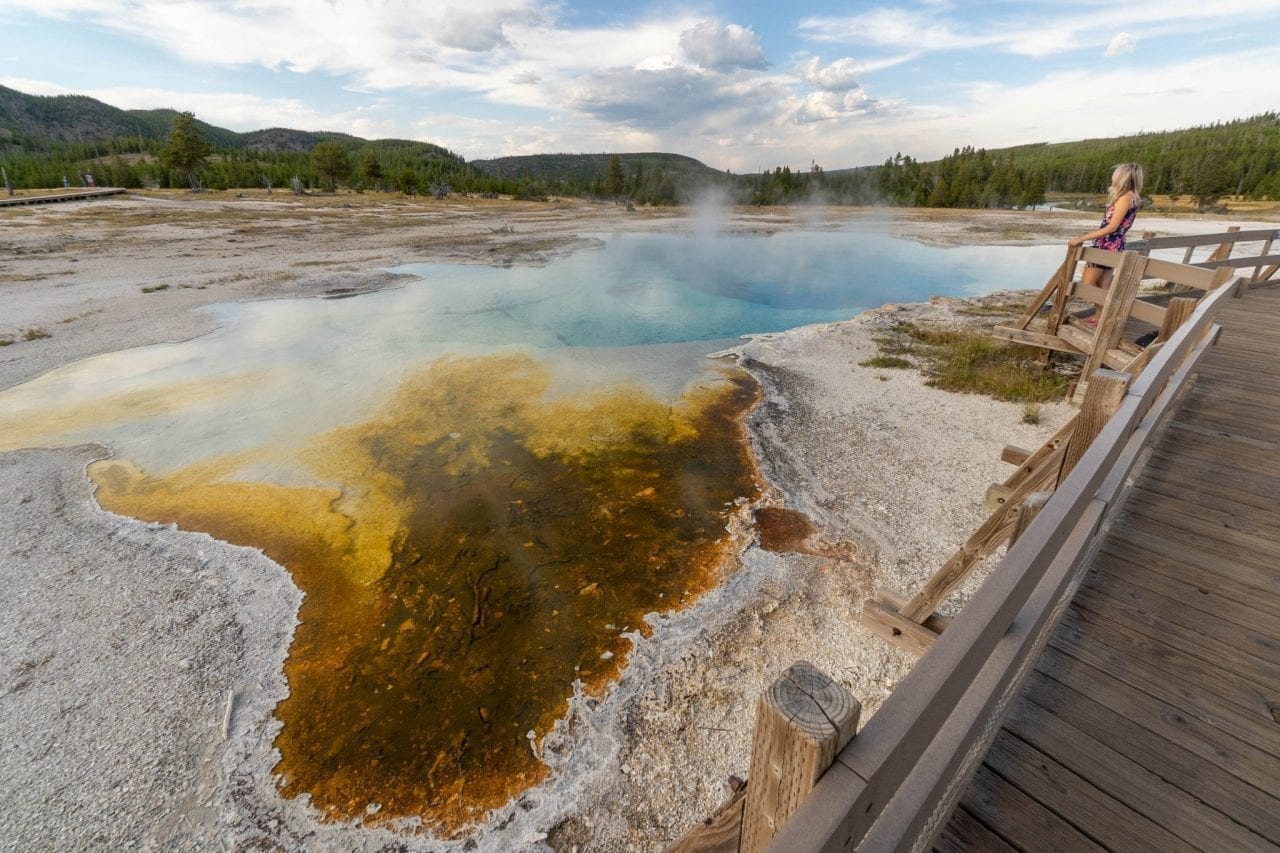 The most notable feature of Biscuit Basin is the boardwalk along the basin that leads you to the trailhead for Mystic Falls Trail.  We highly recommend you do this moderate 
3.5 mile loop trail
. It passes through a viewpoint that overlooks the Upper Geyser Basin area at an elevation of 700 ft above ground. Its a nice panorama and you can even see the Old Faithful Geyser in the distance from up there.
From the viewpoint, the trail continues to the Mystic Falls before looping back to Biscuit Basin. The waterfall itself isn't out of the world, but it nevertheless makes the trail a bit more interesting. Get some great photos with the backdrop of the Little Firehole River flowing down into the basin. Overall, it's a great trail to get some physical activity and enjoy views of the surrounding basin from up top. Definitely worth the effort!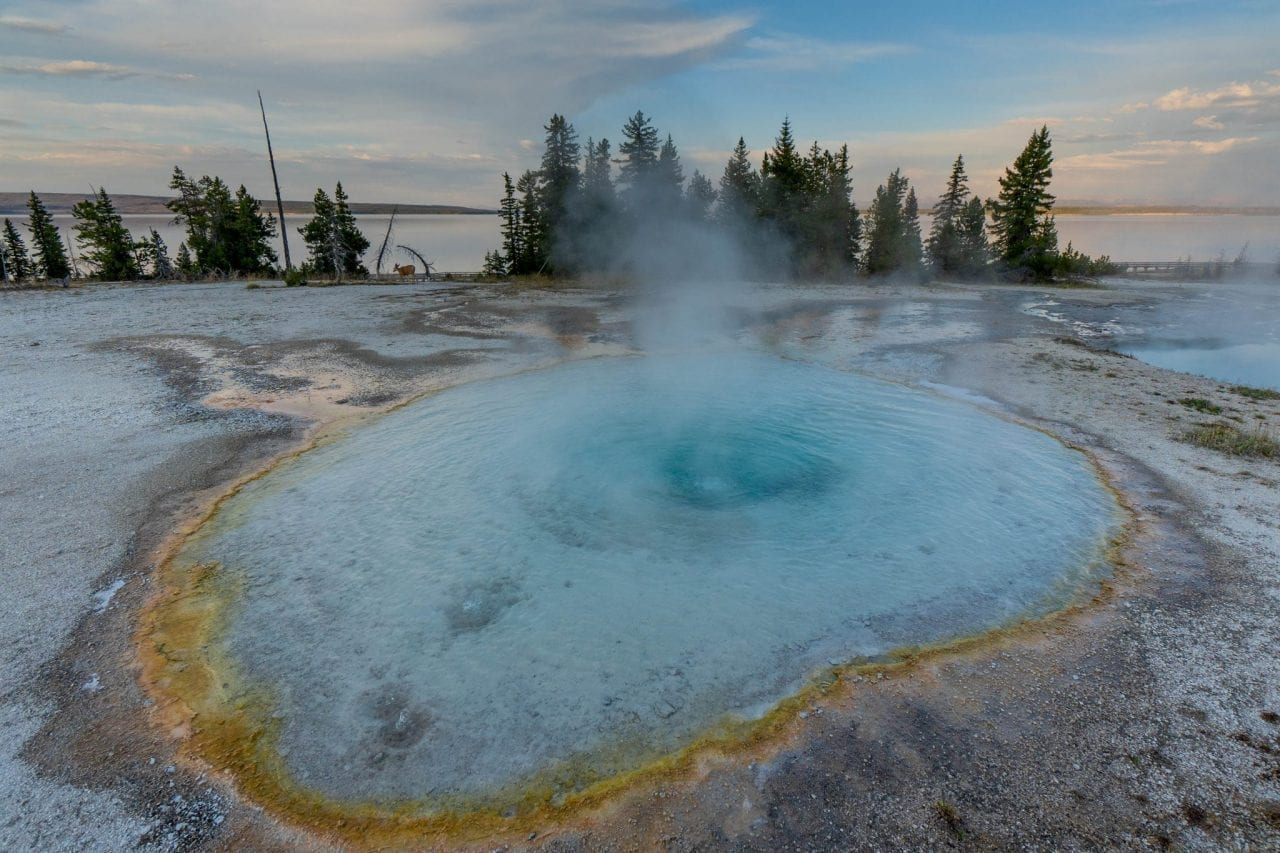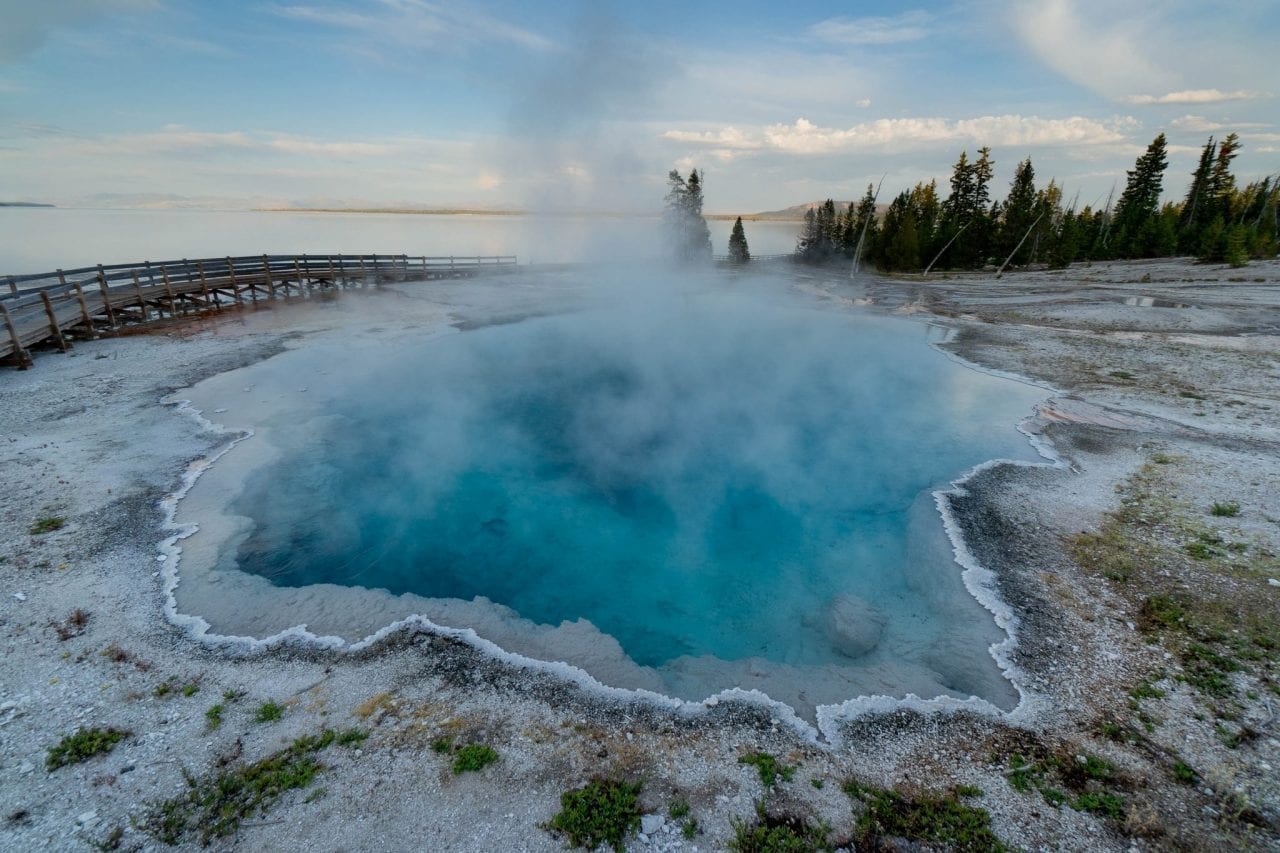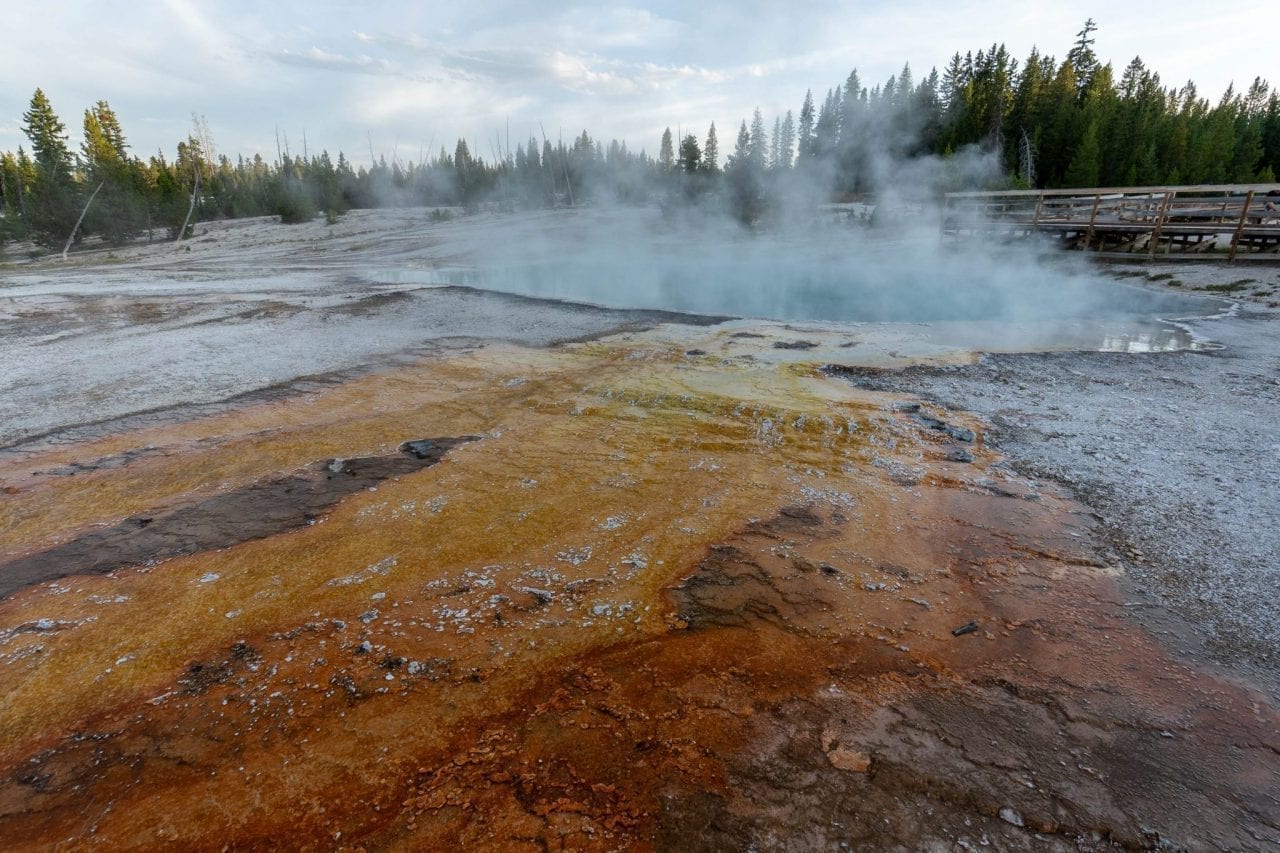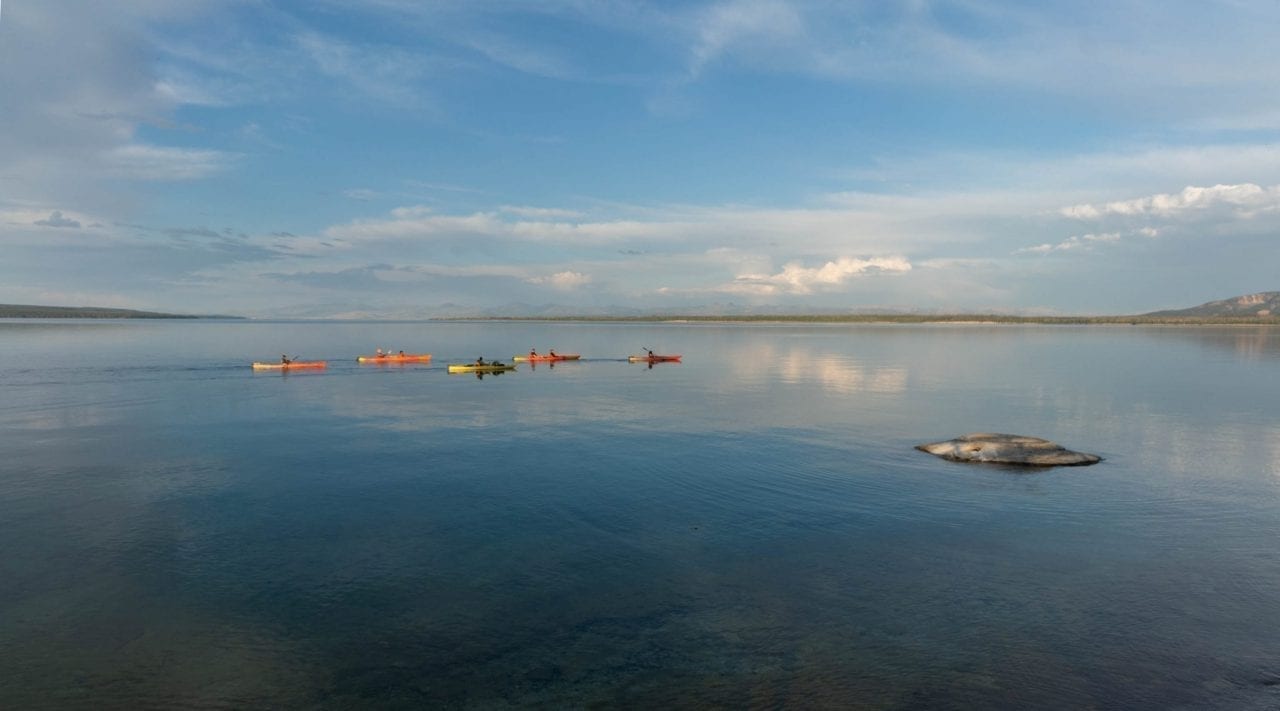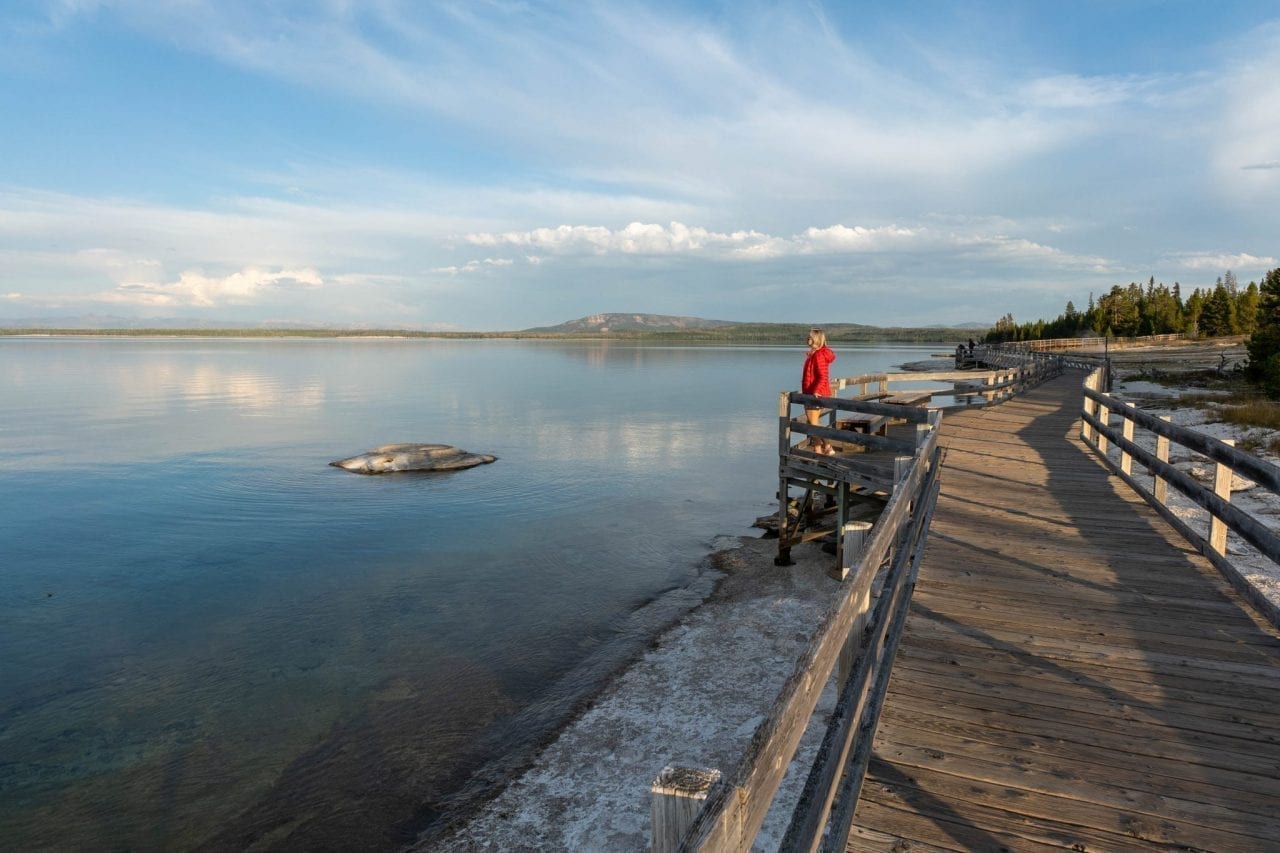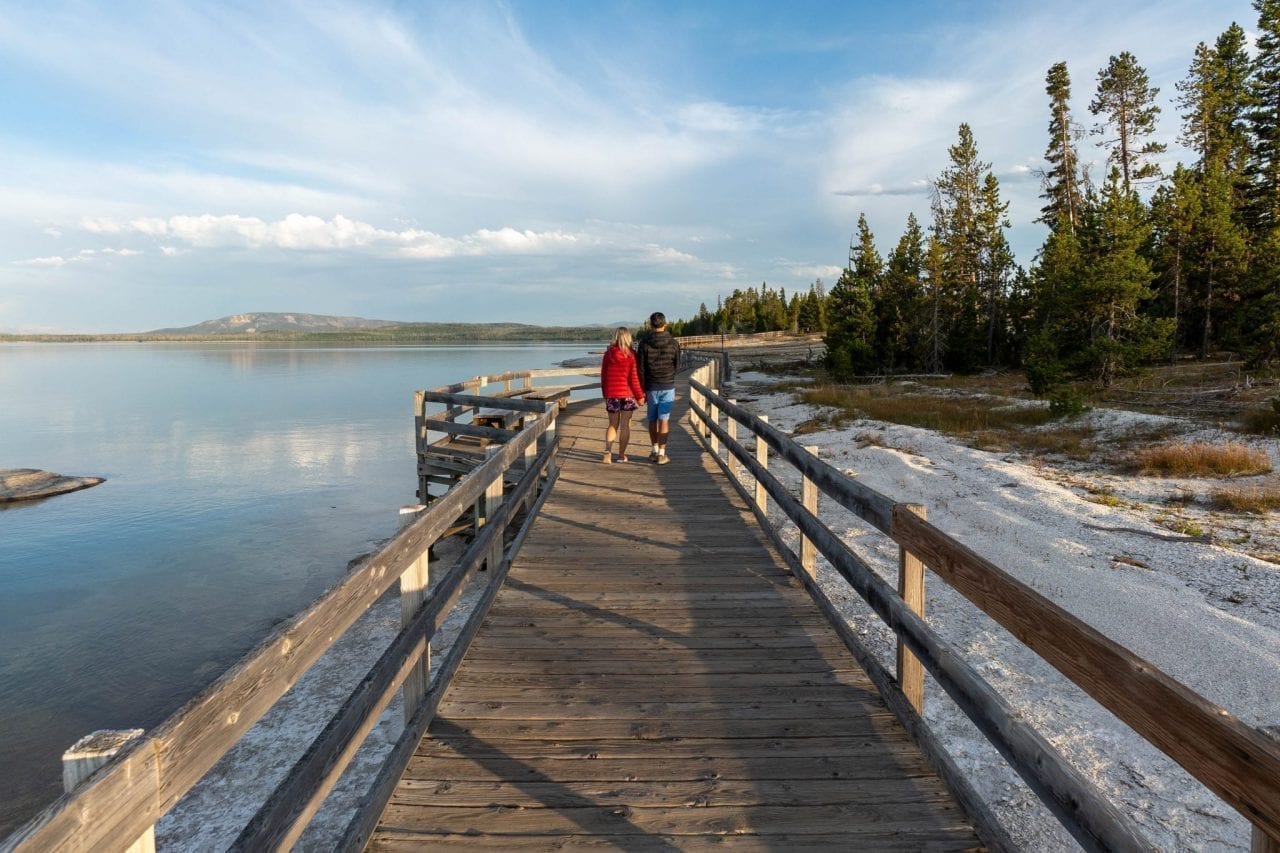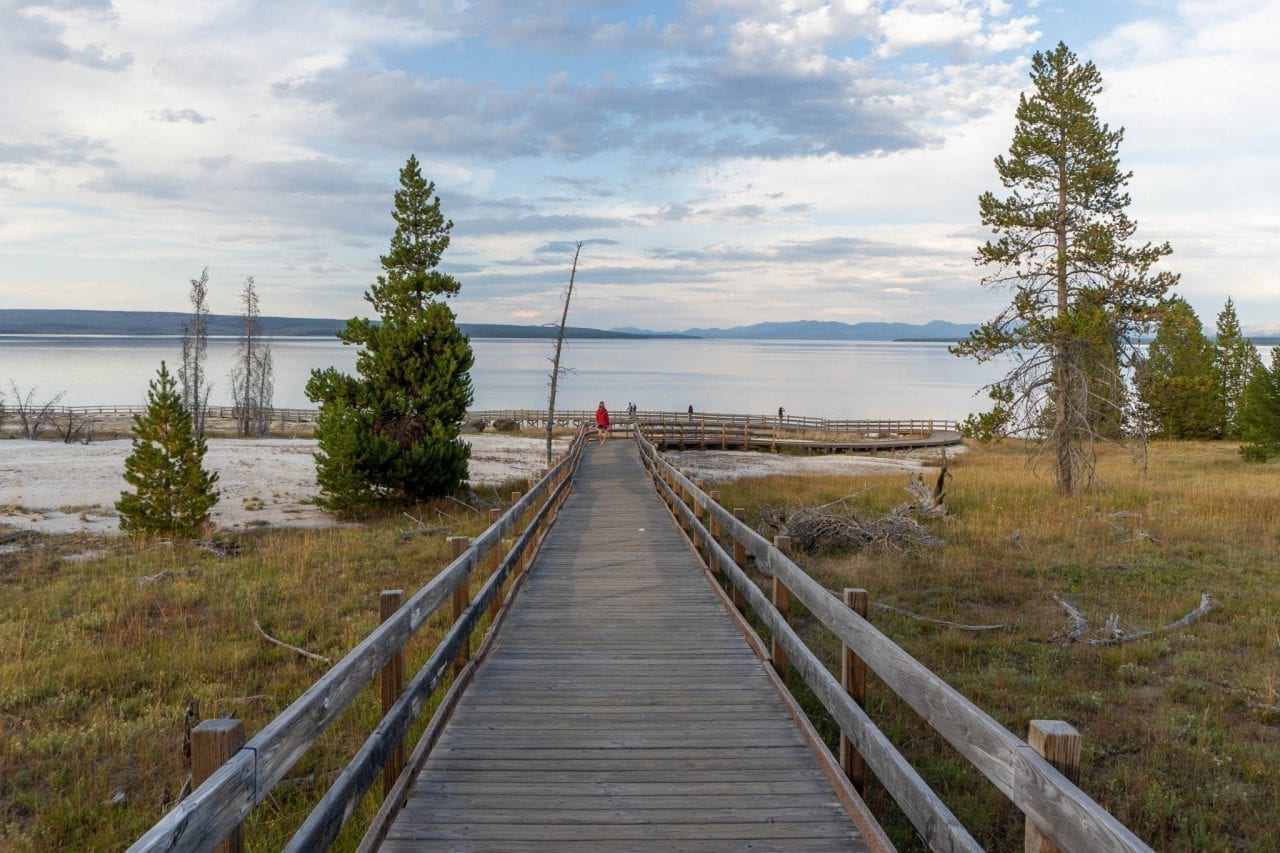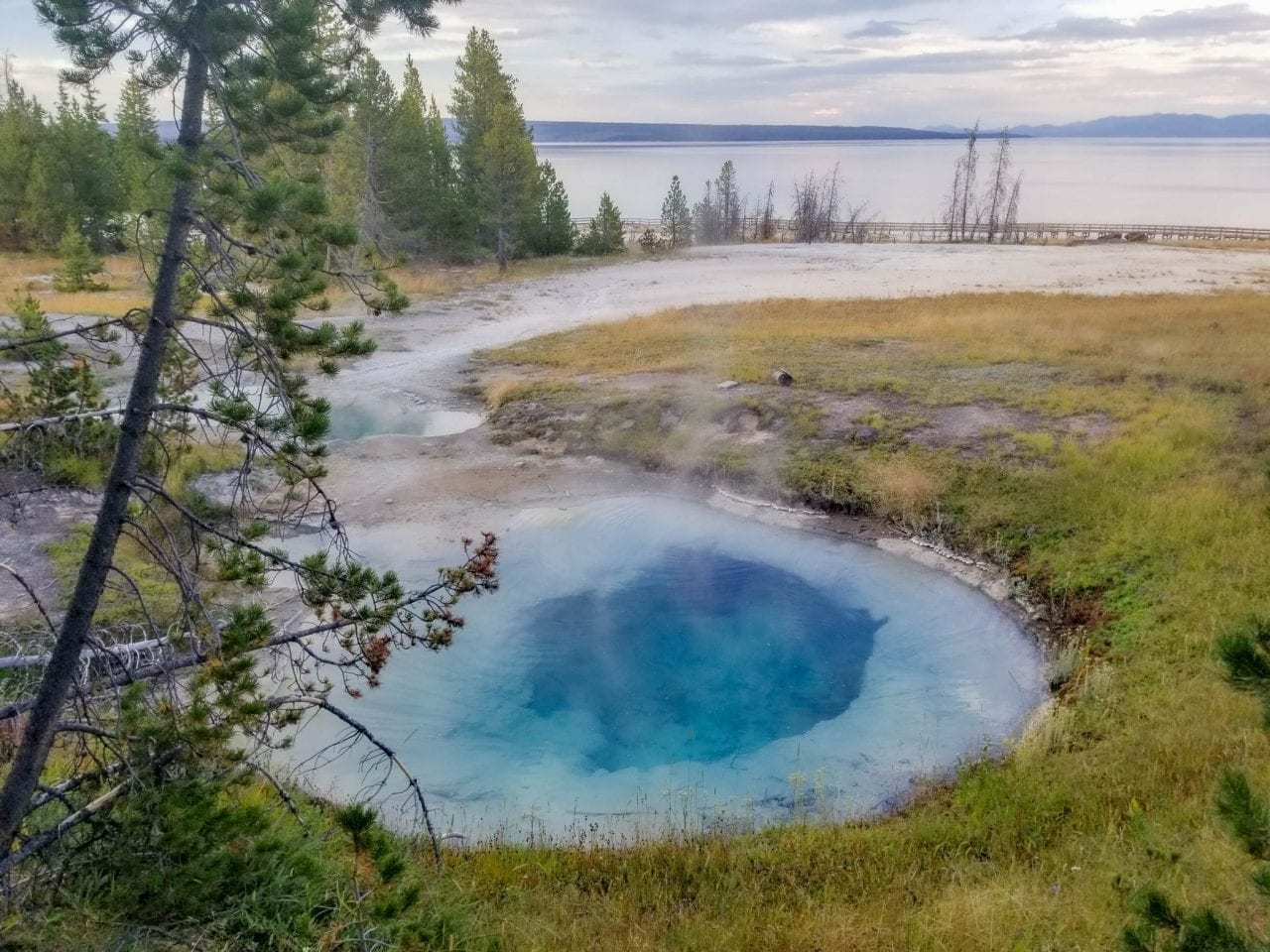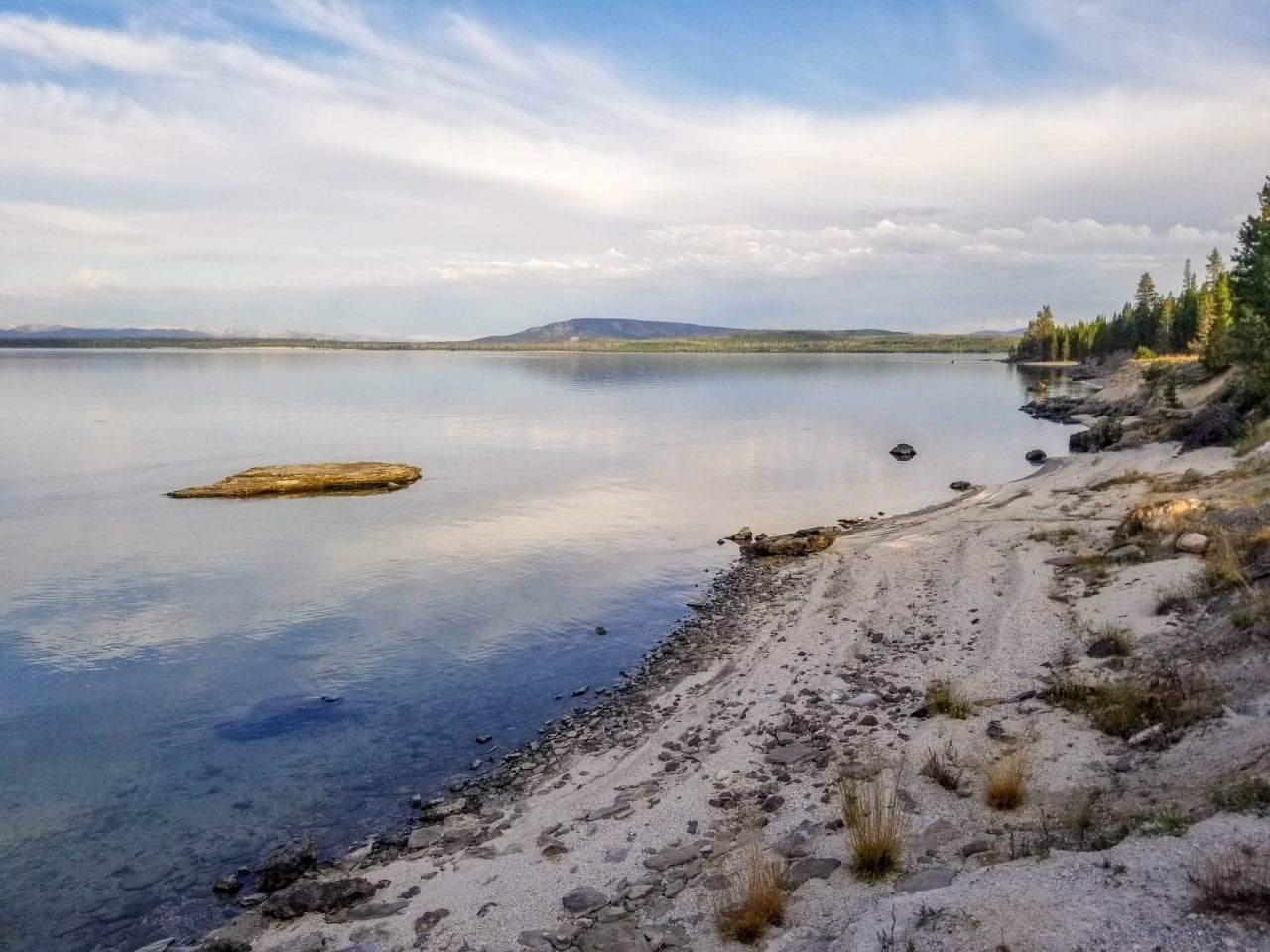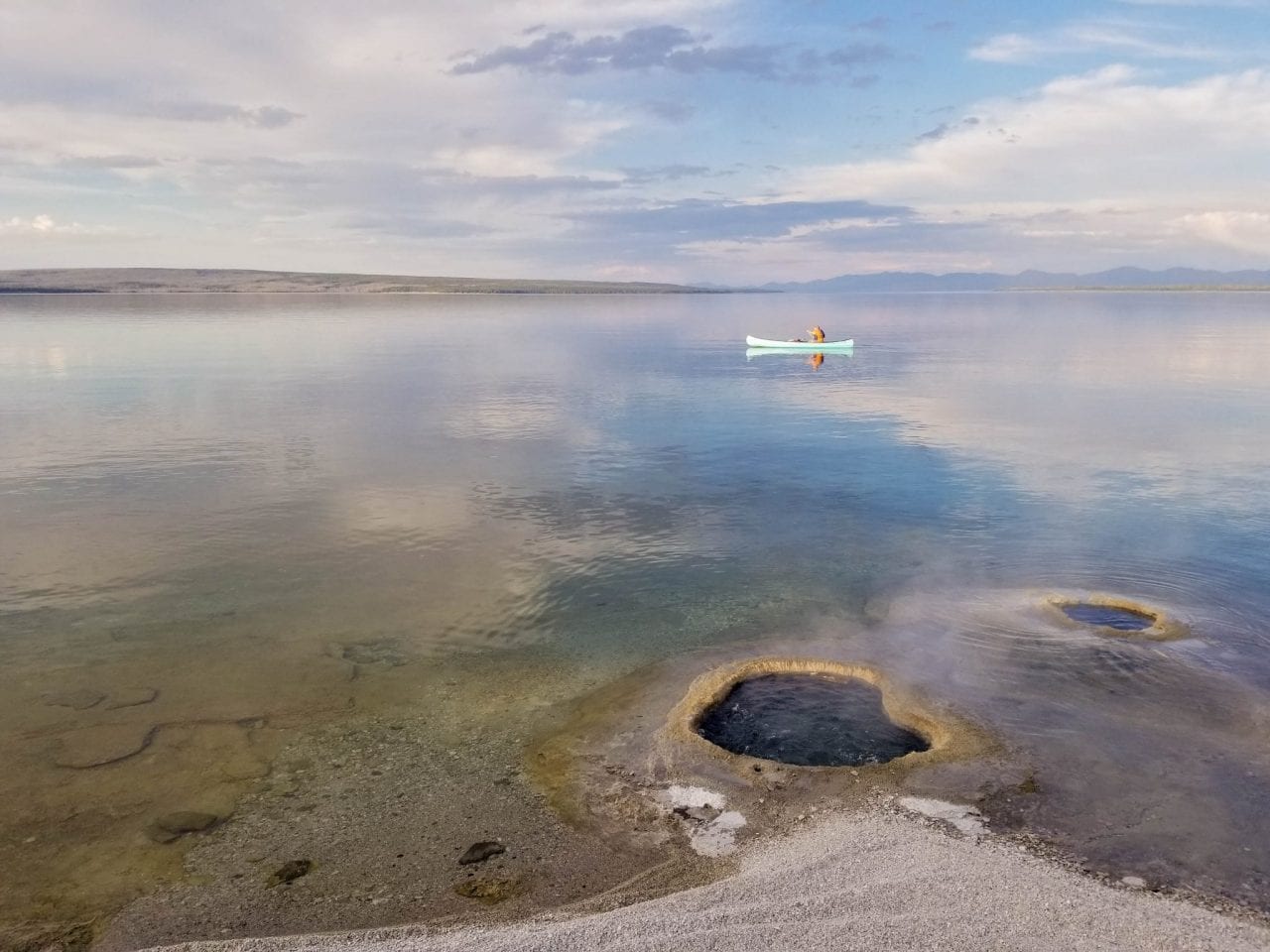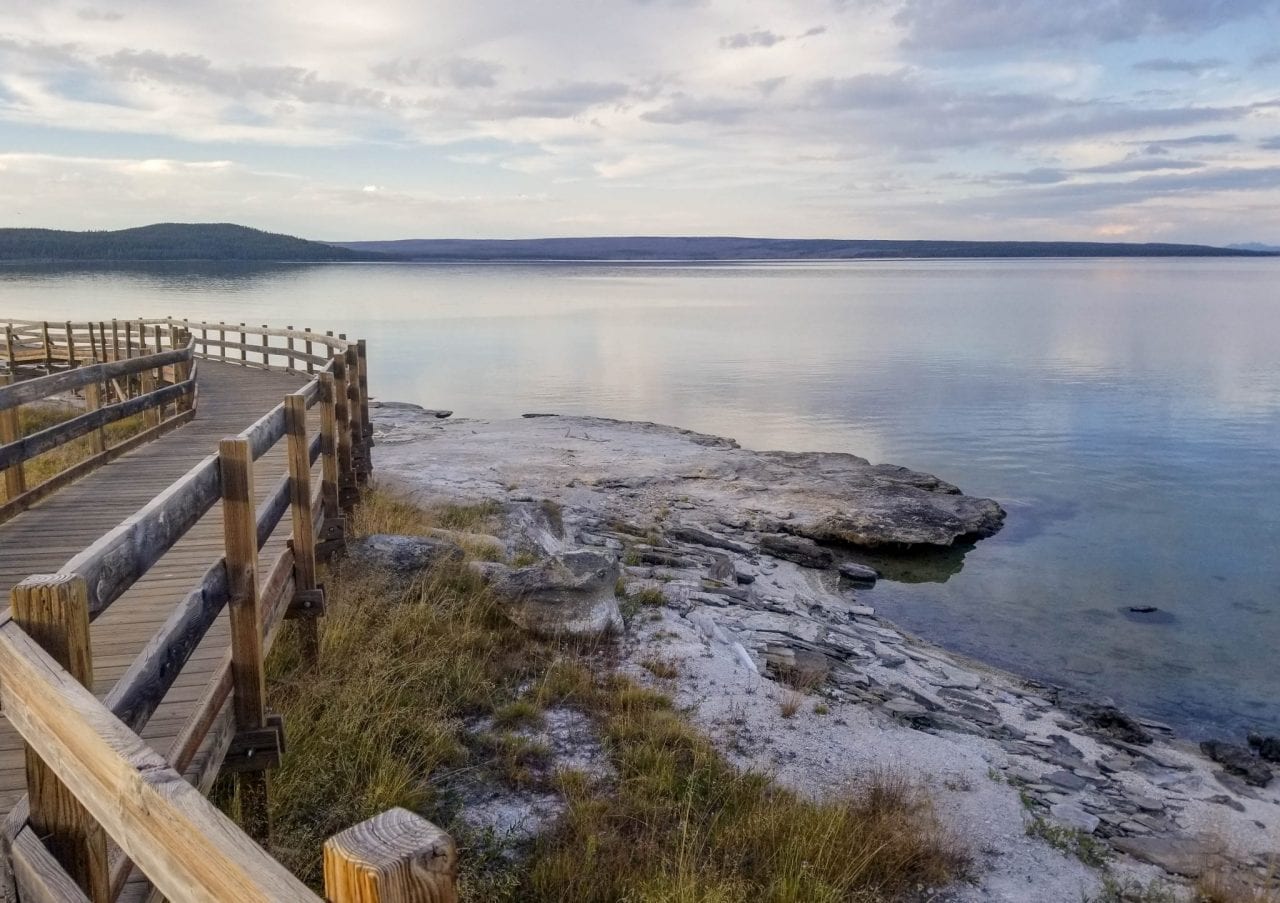 West Thumb Geyser Basin is only a 30 minute drive from Upper Geyser Basin and features several geysers and springs right by the shore of Yellowstone Lake. The 1 mile boardwalk makes a perfect location for a casual evening walk watching the sun setting over the horizon. You will find far less crowds here than the more popular spots like Old Faithful and Grand Prismatic, and will make for a peaceful evening walk along Yellowstone Lake. The beautiful pictures of the lake will make an added bonus!
DAY 3
: EXPLORE NORRIS GEYSER BASIN & MAMMOTH SPRINGS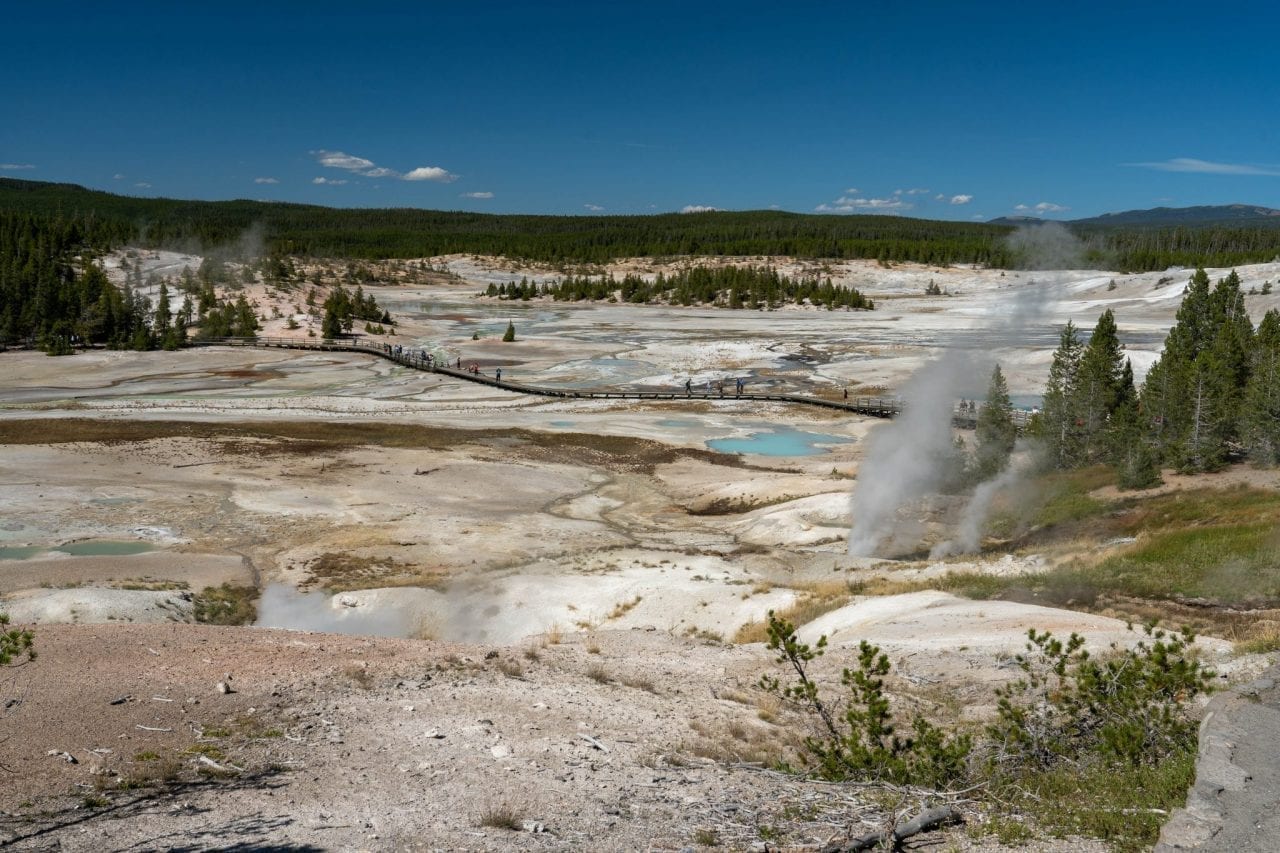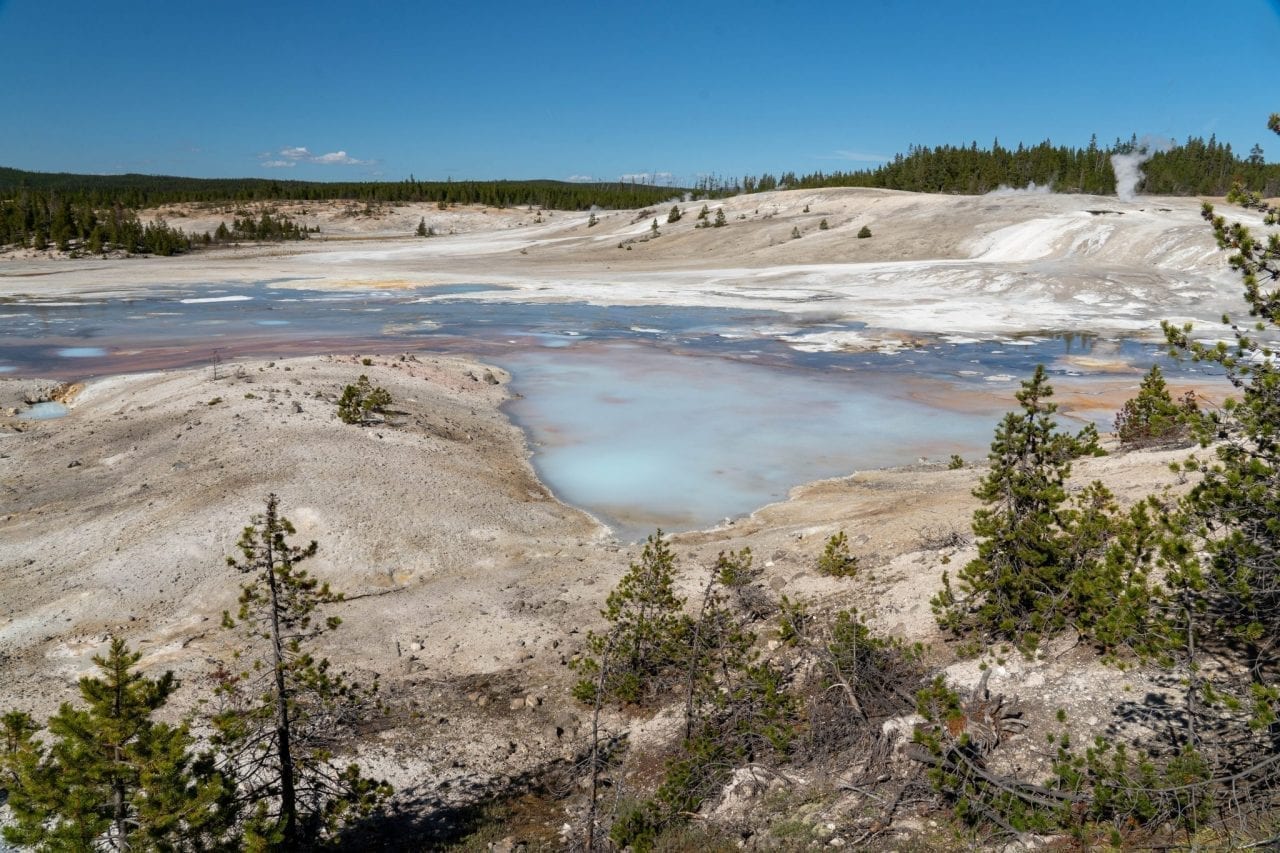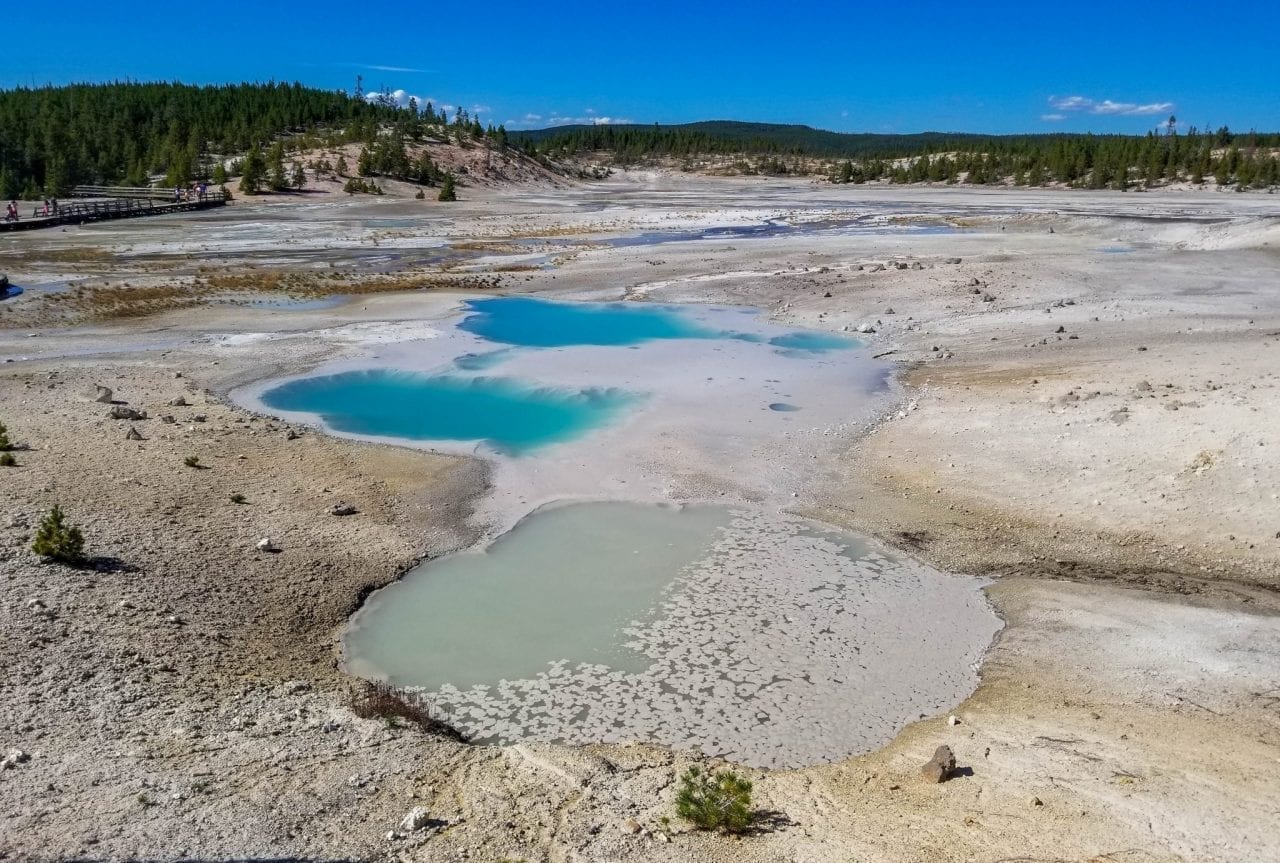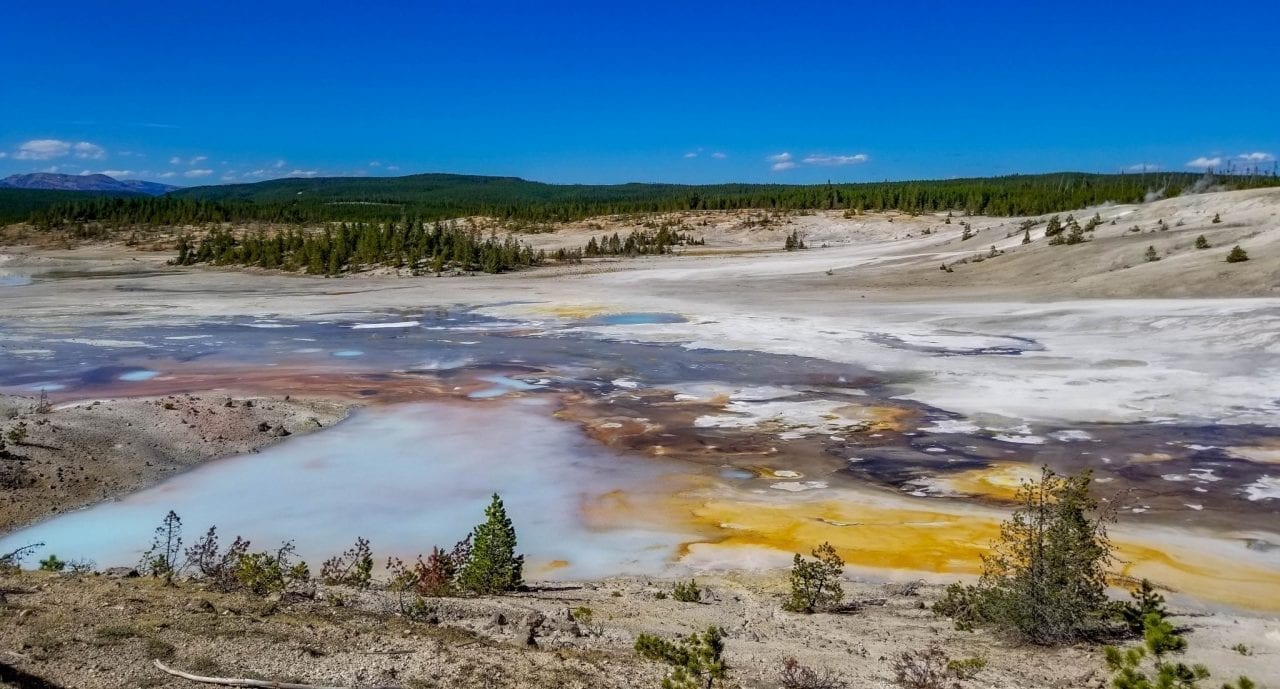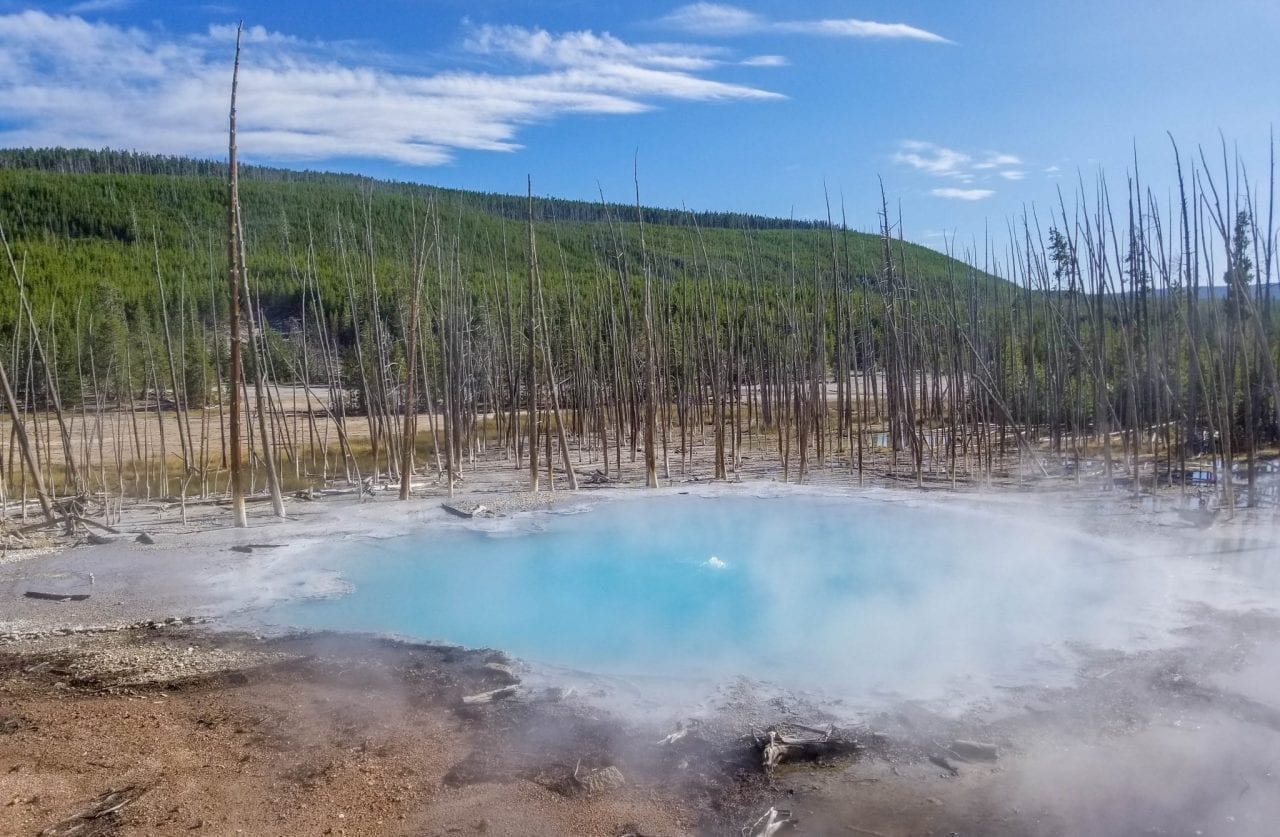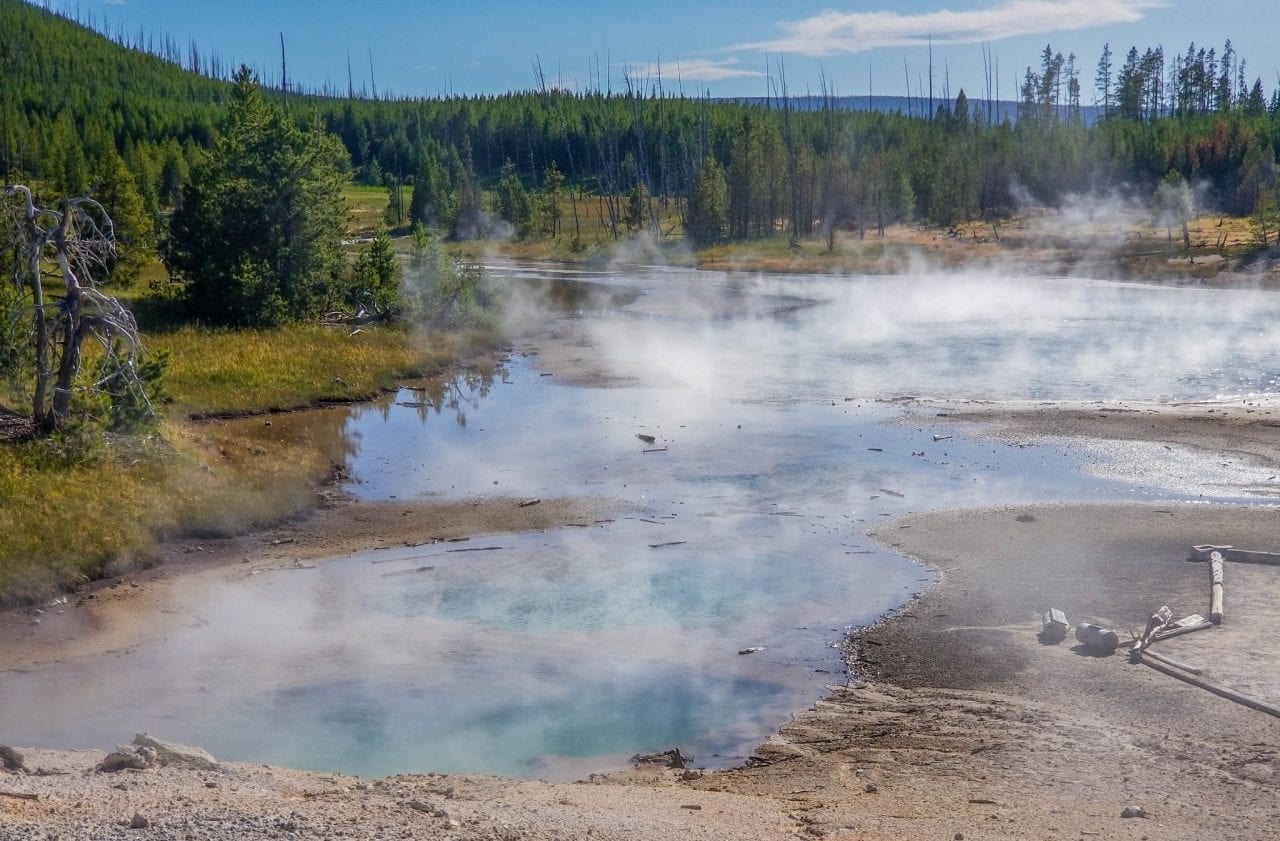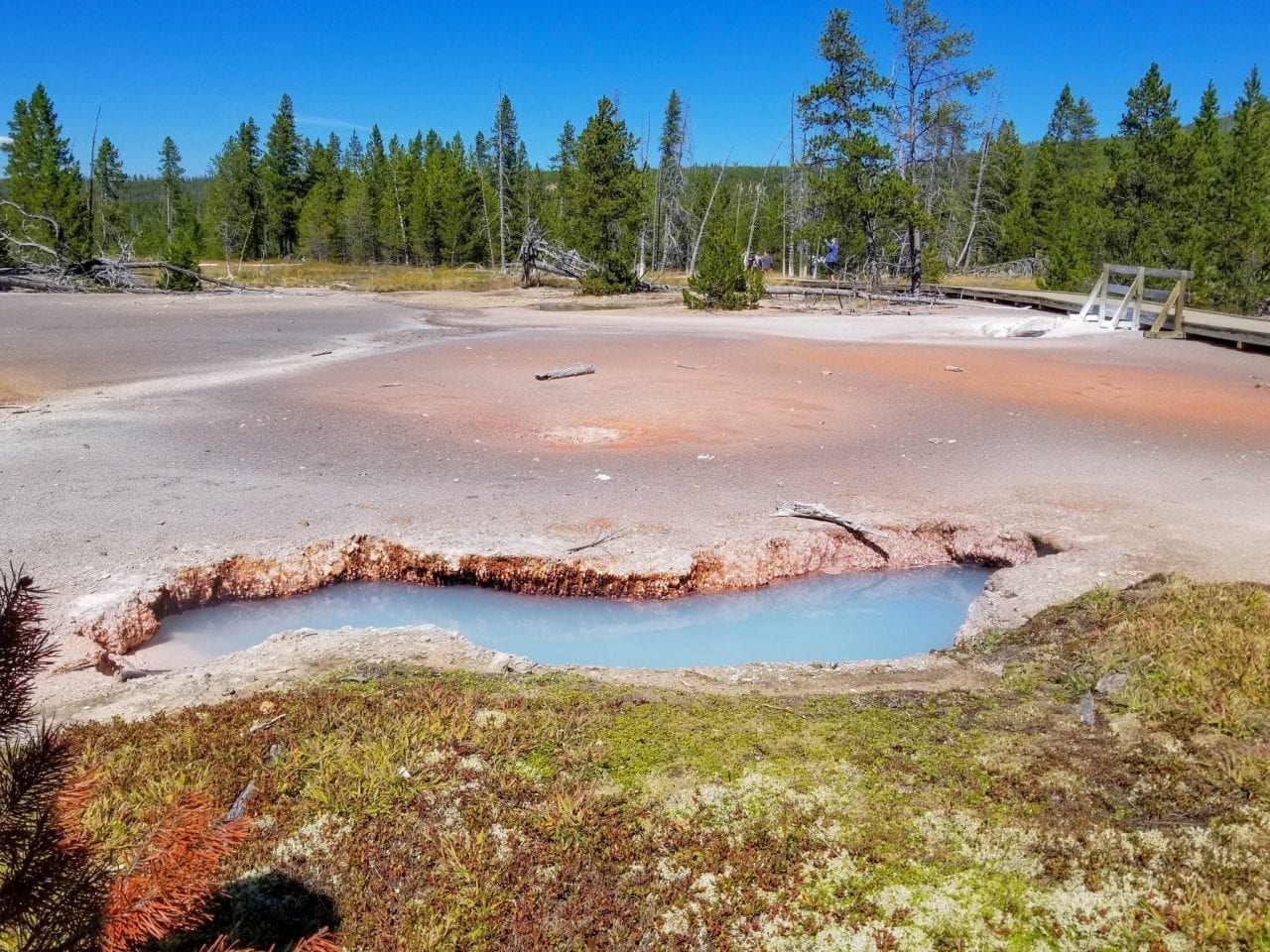 Less than an hour from West Yellowstone, Norris Geyser Basin is the hottest basin in Yellowstone, with a unique diversity of springs, geysers and other thermal features. With a
few attractions to stop
by along the way, it is defintely worth a visit! Expect to spend half a day exploring this area.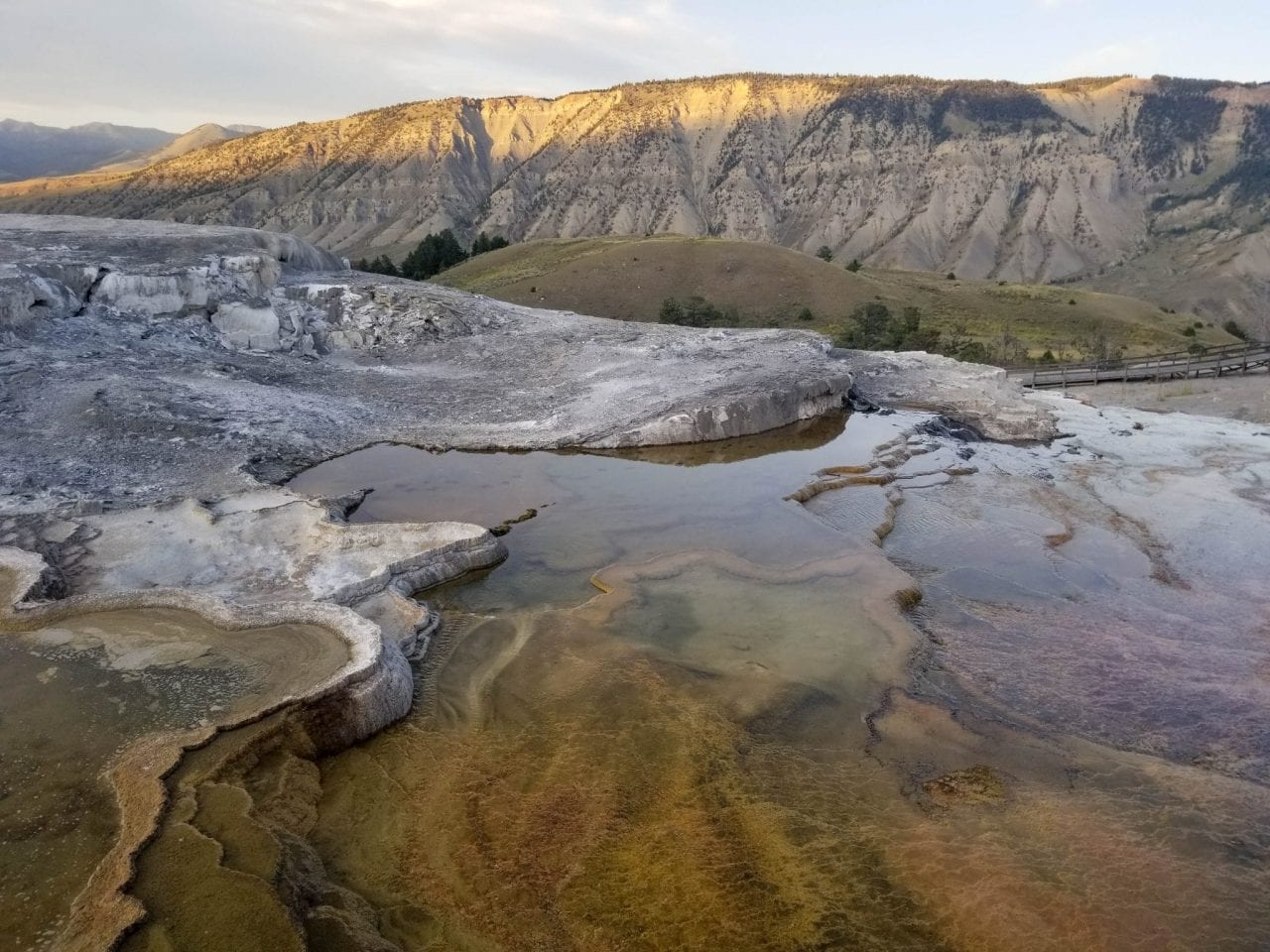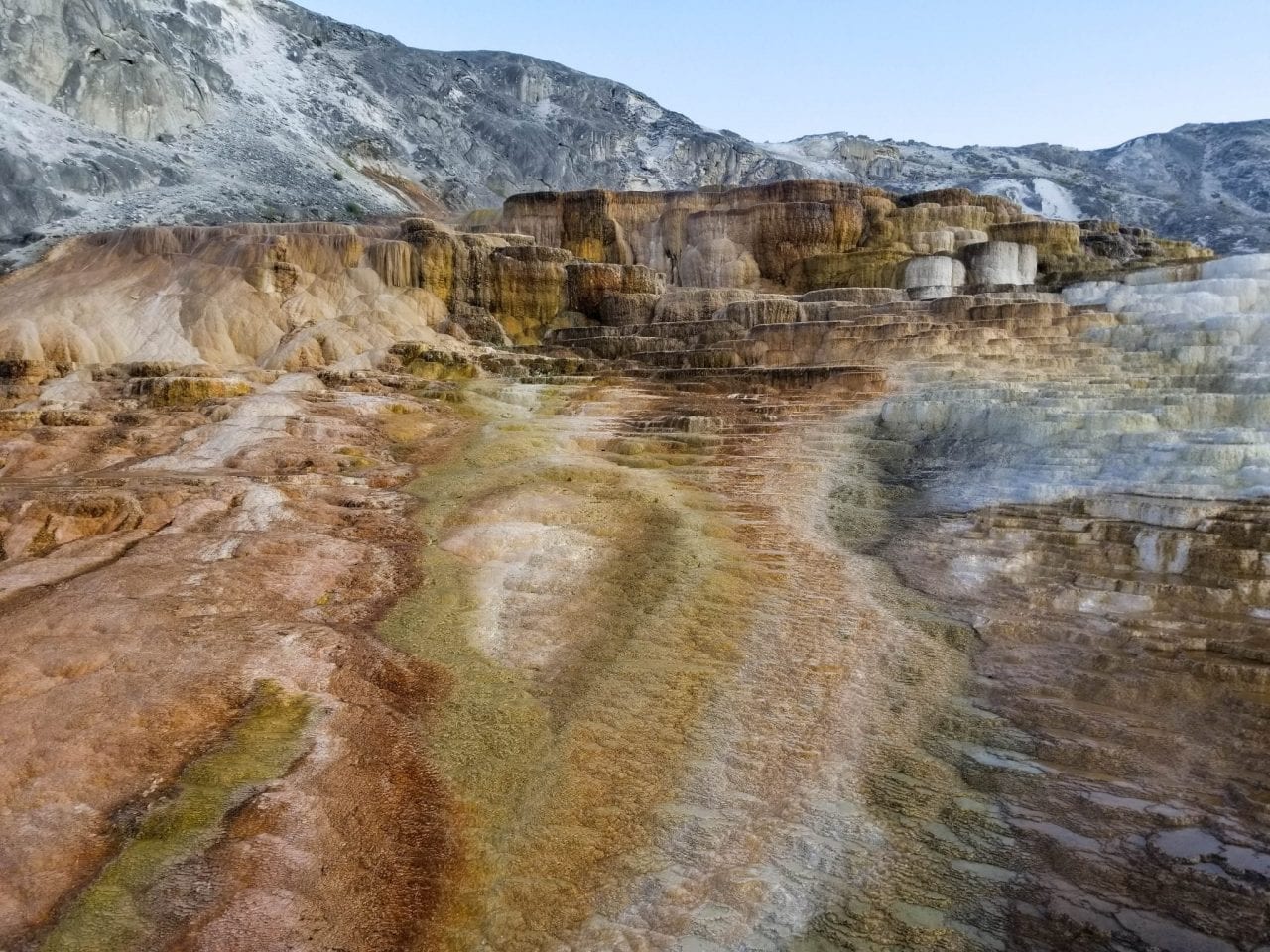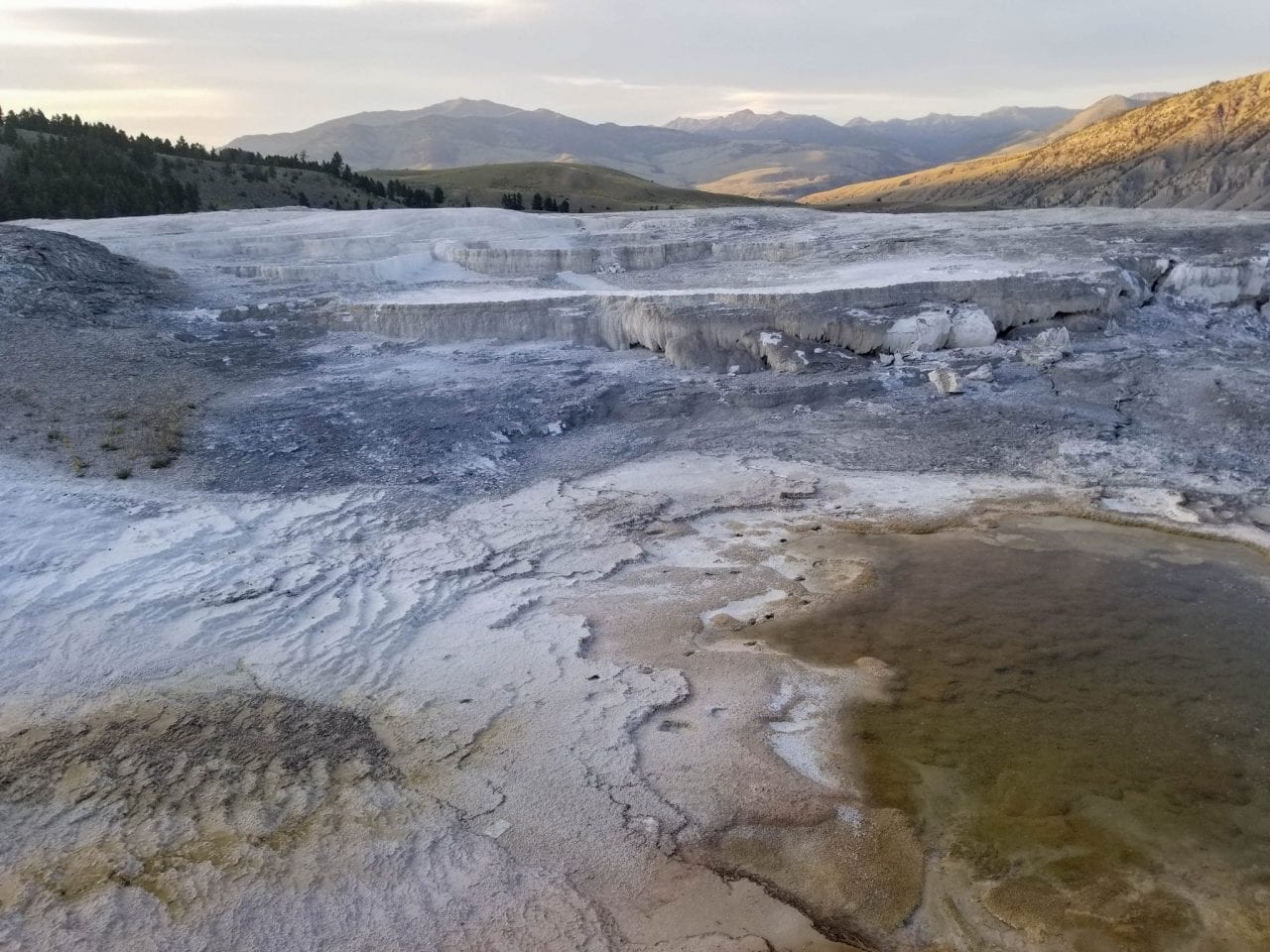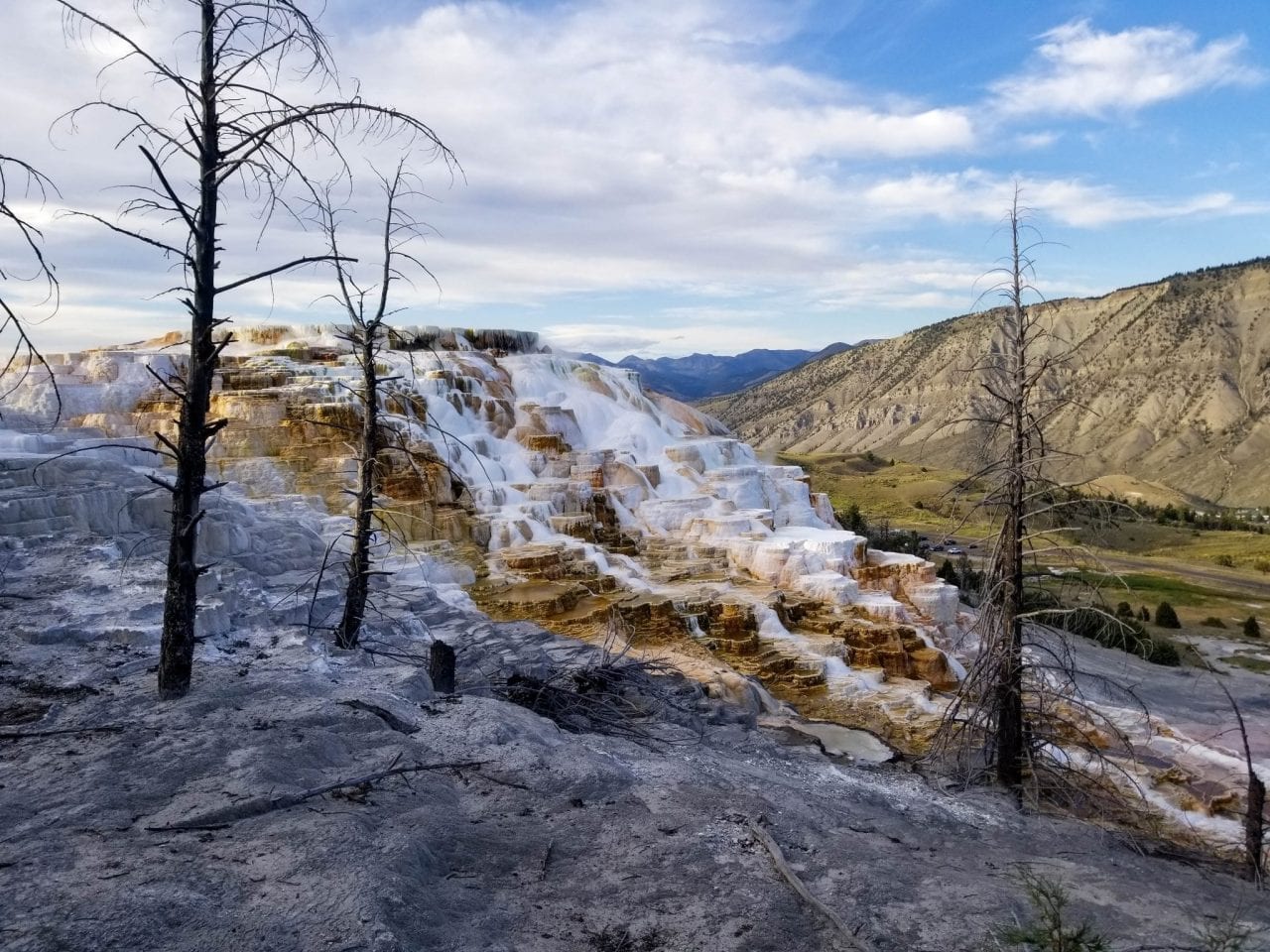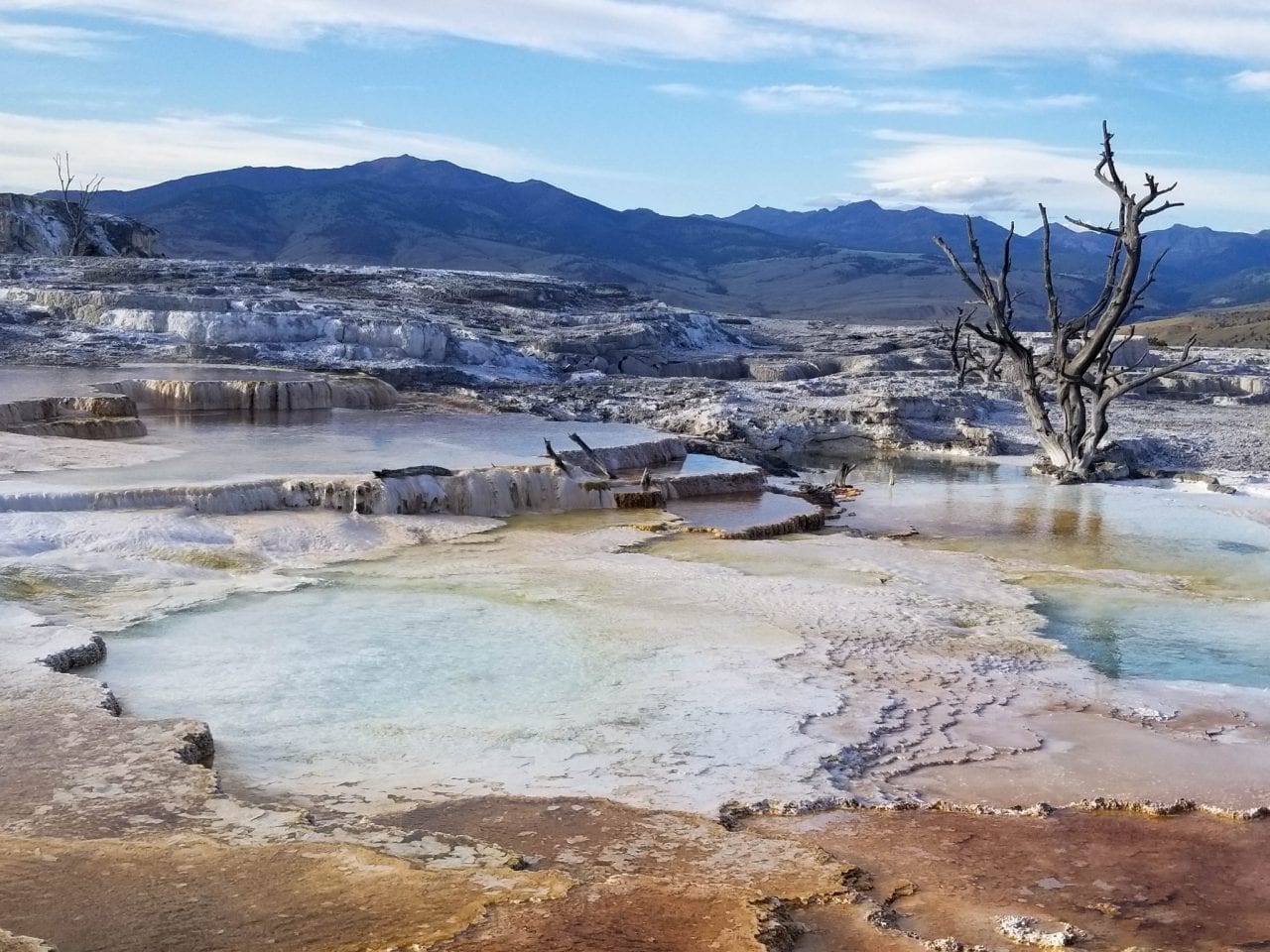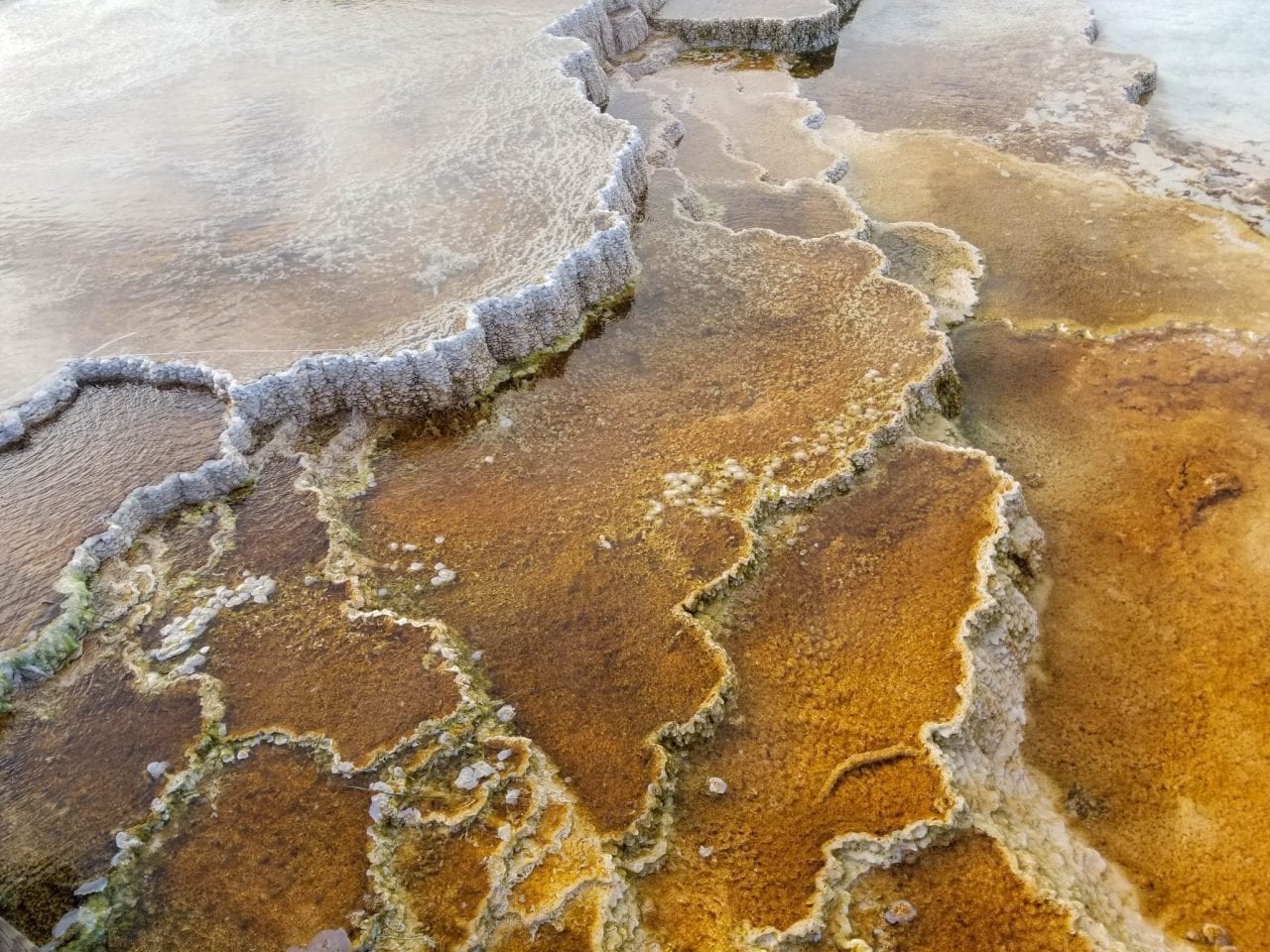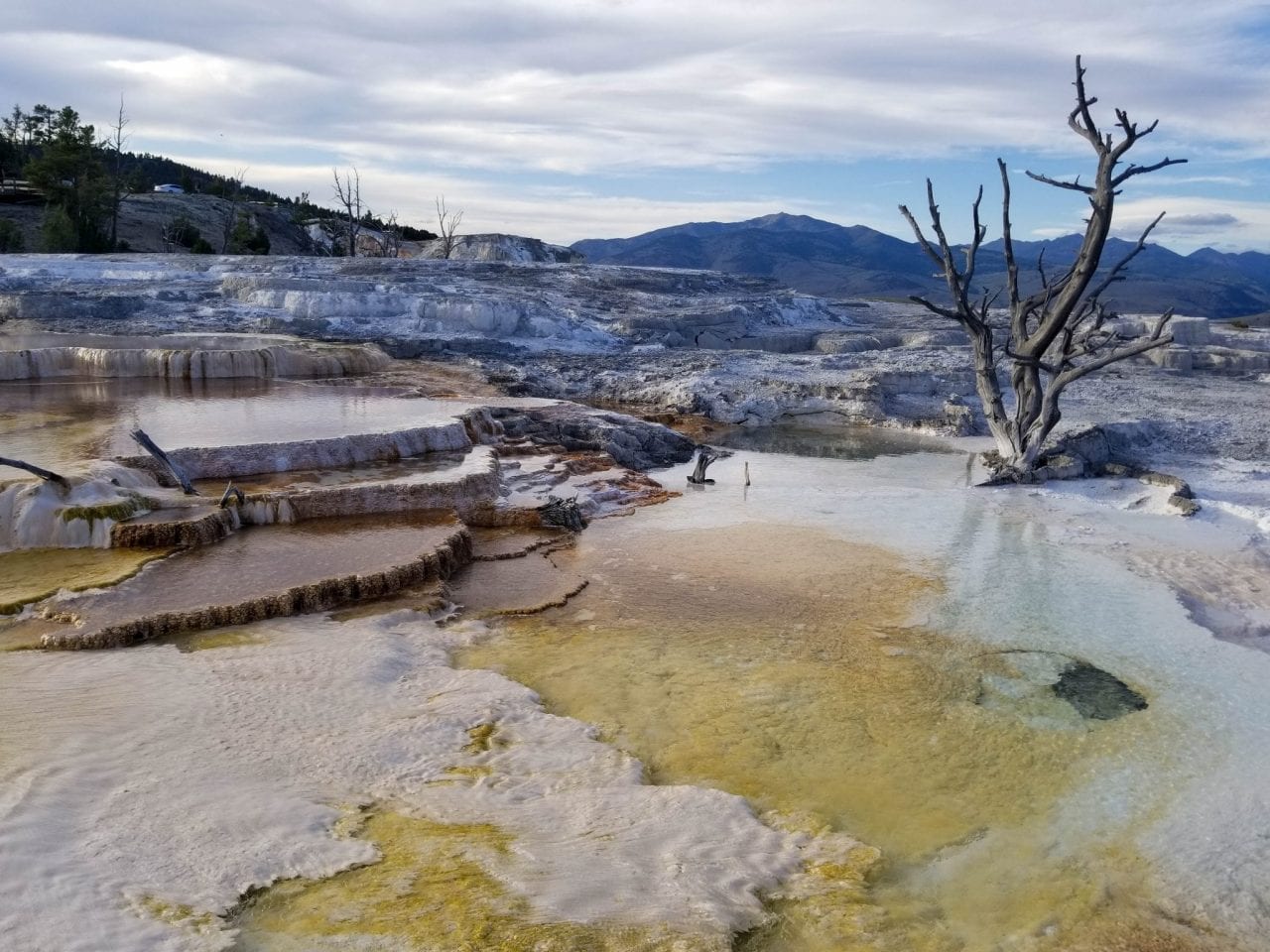 Mammoth Hot Springs is known for dozens of travertines formed due to slow deposit of calcium carbonate around the springs.
As boiling hot water flows through the fault line between Norris and Mammoth Hot Springs, it collects calcium carbonate from limestone deposits underneath. When this calcium rich water gushes out of the springs, the calcium is deposited on the surface creating large travertines where algae thrive.
These travertines are a wonderful mix of brown, red, orange, green and white. One of these travertines, known as Terrace Mountain, is the largest known carbonate depositing spring in the world!
We definitely recommend including Mammoth Hot Springs in your visit. Although a bit out of the way from other areas of interest, it is definitely a unique landscape and the pictures are just amazing!
DAY 4: VISIT THE GRAND CANYON OF YELLOWSTONE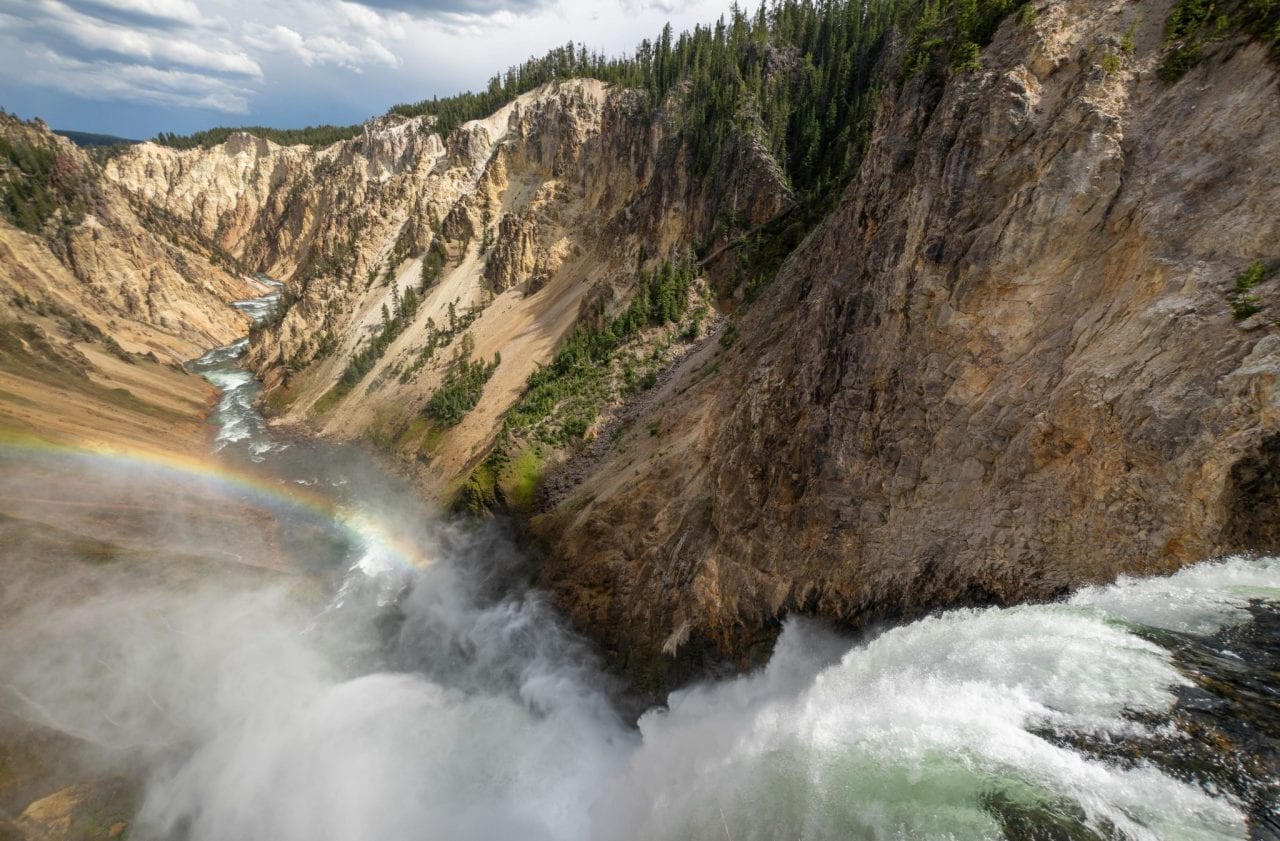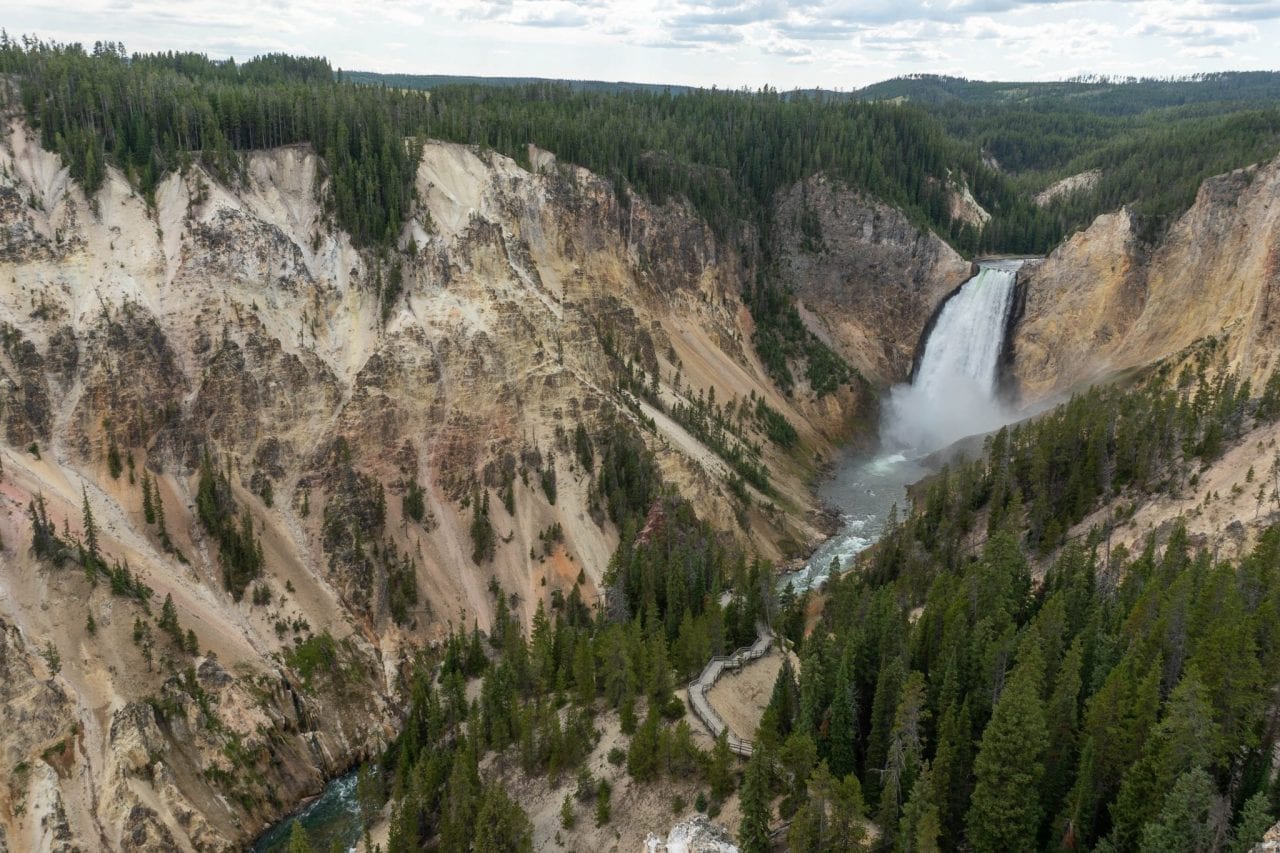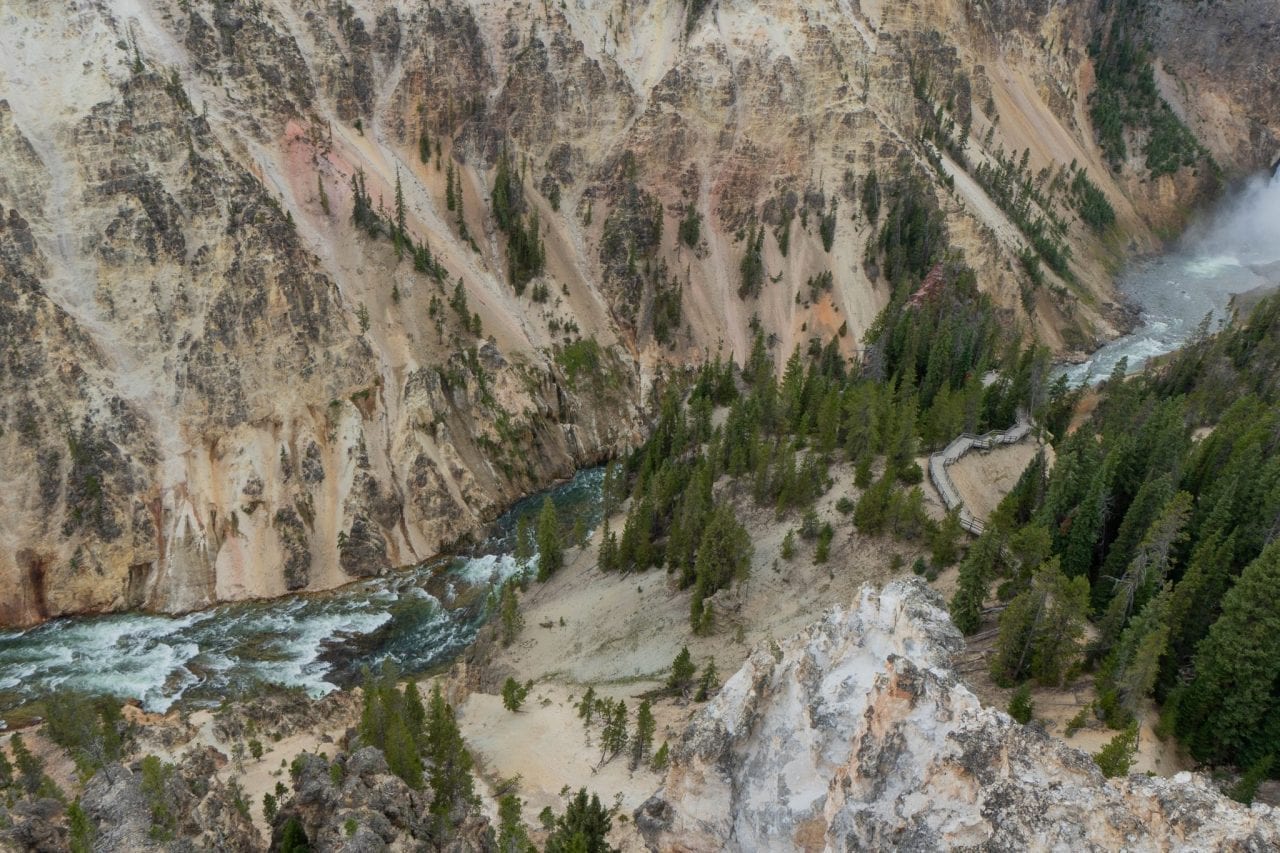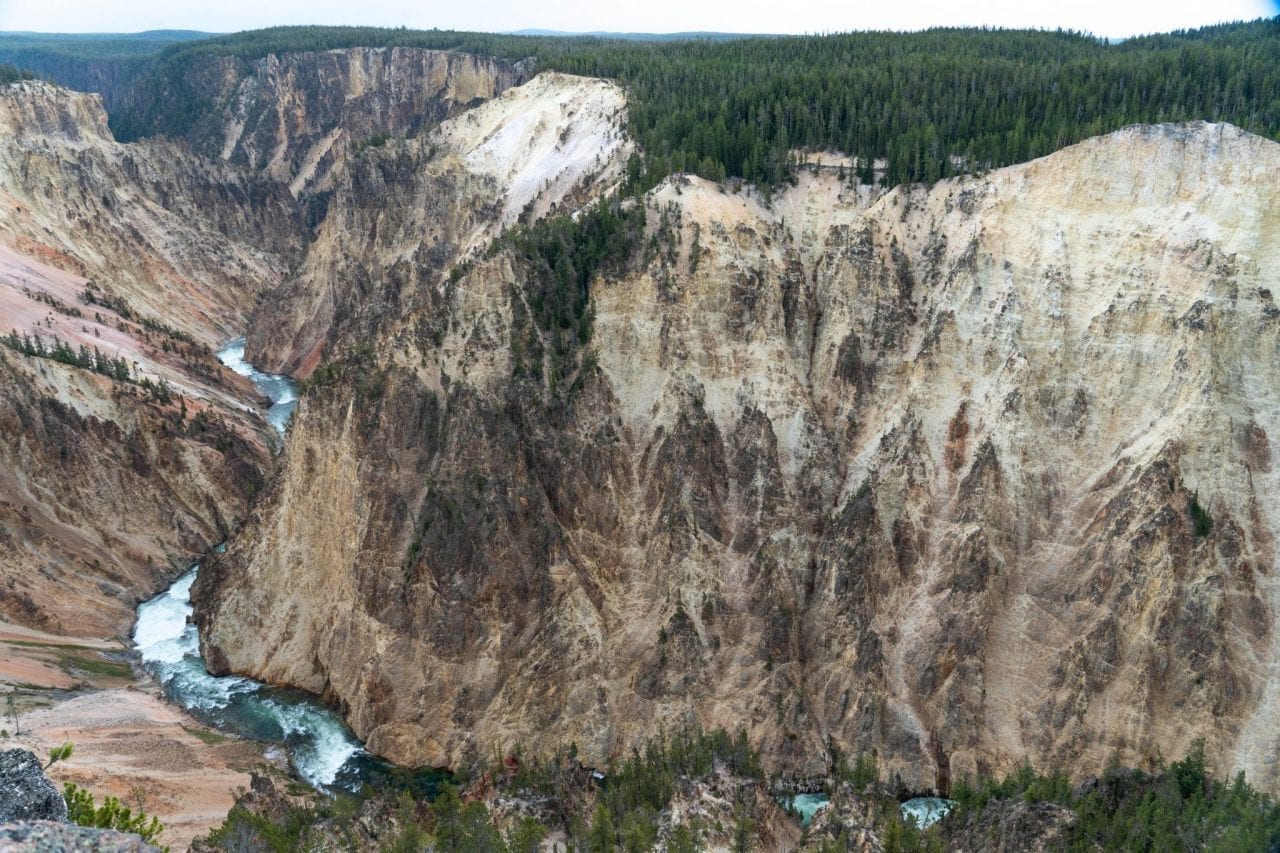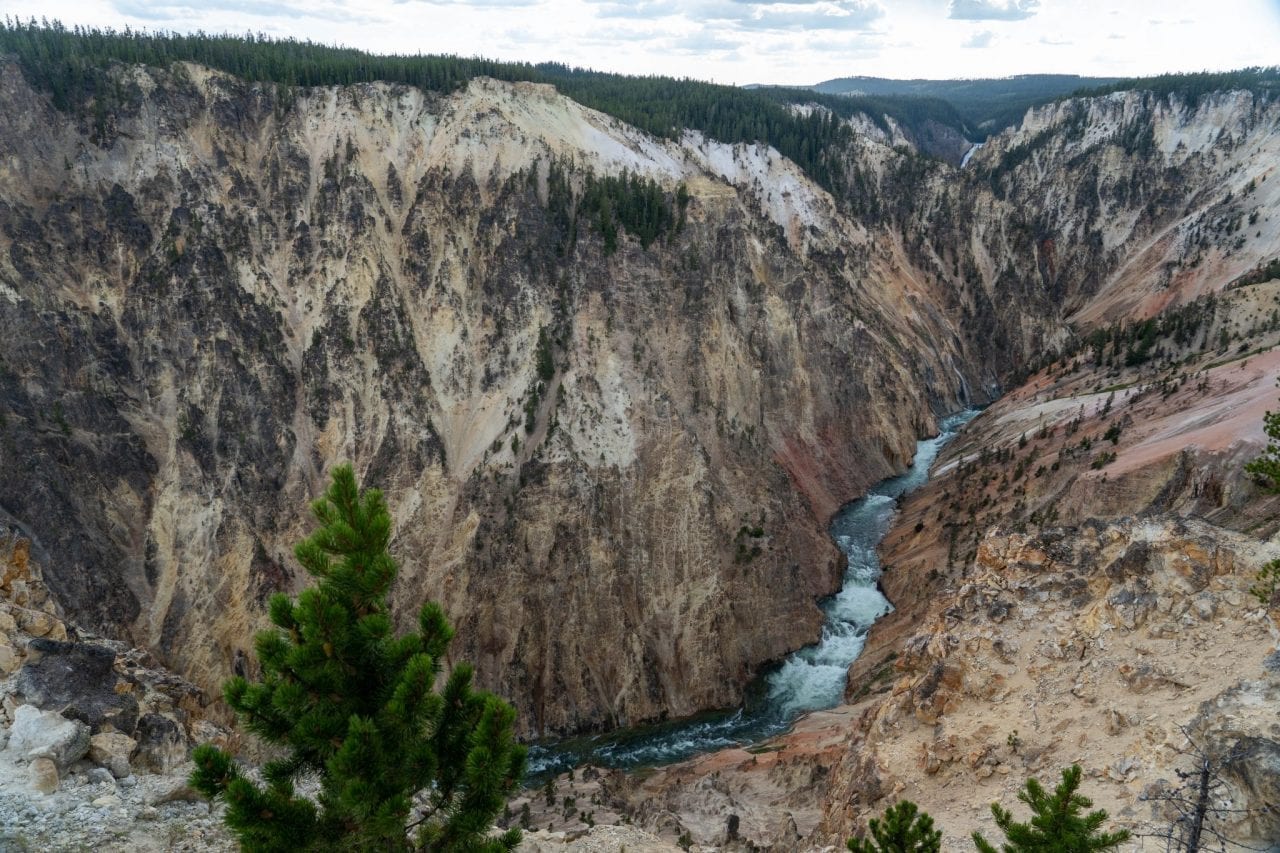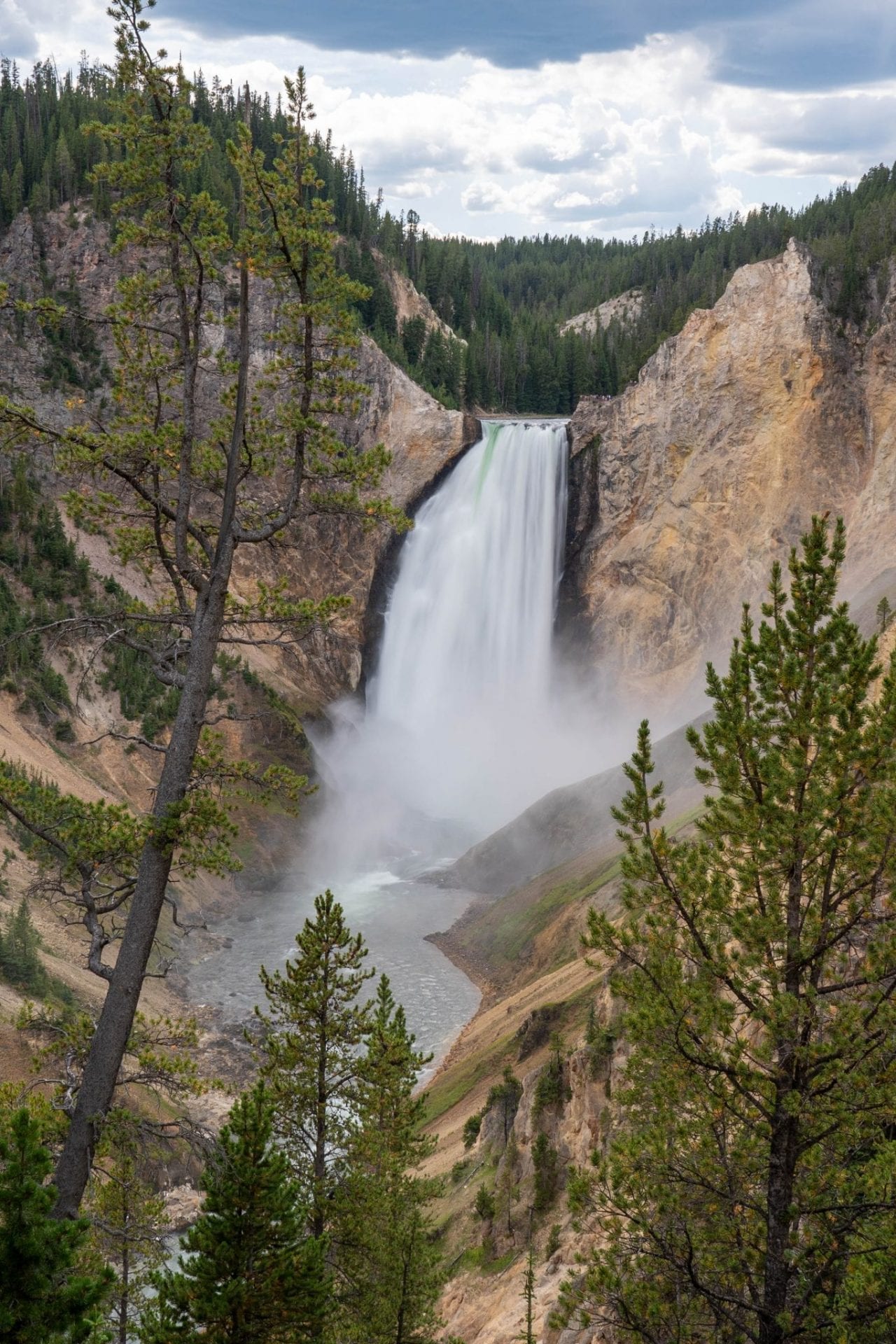 One of the most popular attractions in the park is called the
Grand Canyon of the Yellowstone
which is famous for its popular hiking spots and breathtaking views. Over 20 miles long it is located about 40 miles southeast of Yellowstone's north entrance and just a few miles northwest of Yellowstone Lake.
There is a beautiful visitor center and a lodge housing several dining facilities that can be found north of the canyon's North Rim Trail. There are also guided bus tours offered by park operators at an additional cost, but they can provide a unique experience that allows you to spend more time focusing on the natural wonder around you and let someone else worry about the road.
DAY 5: WILDLIFE VIEWING IN LAMAR & HAYDEN VALLEY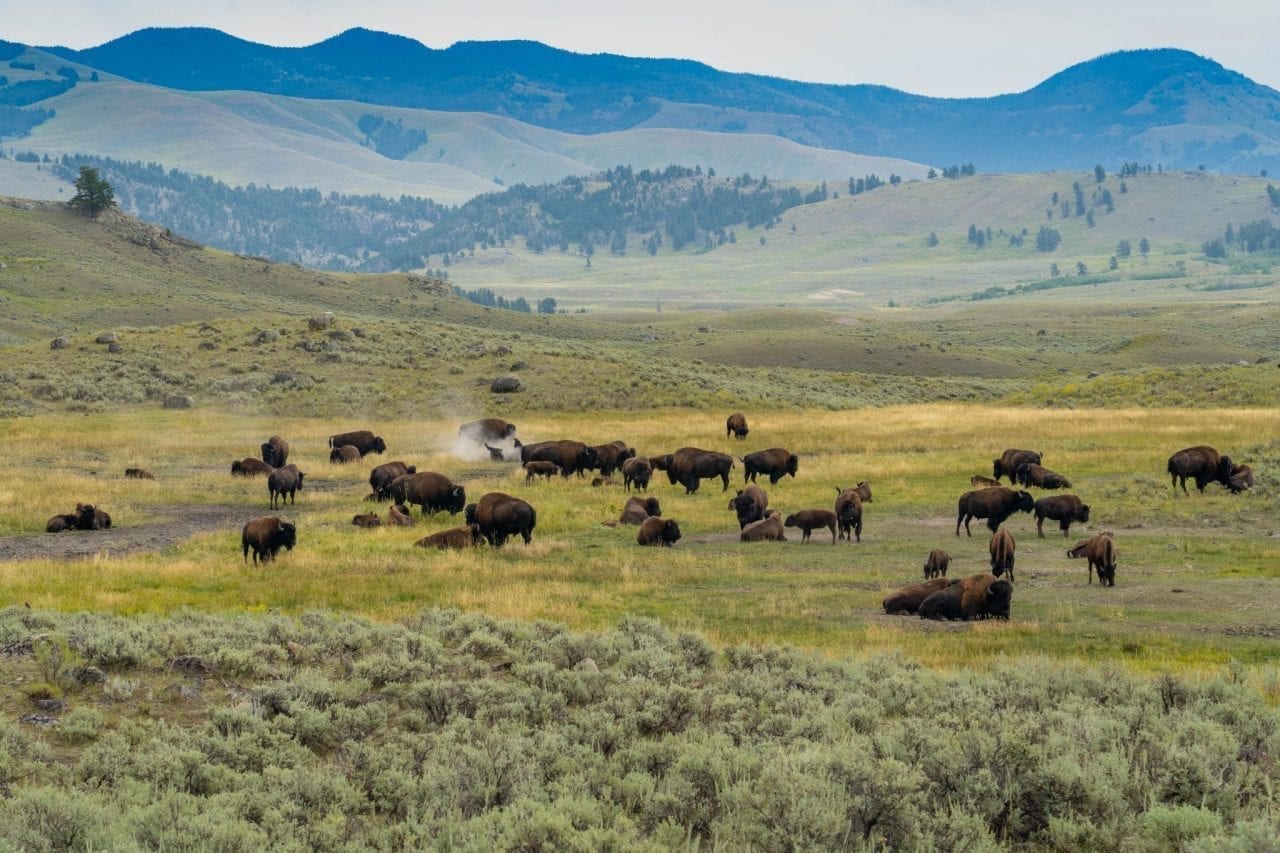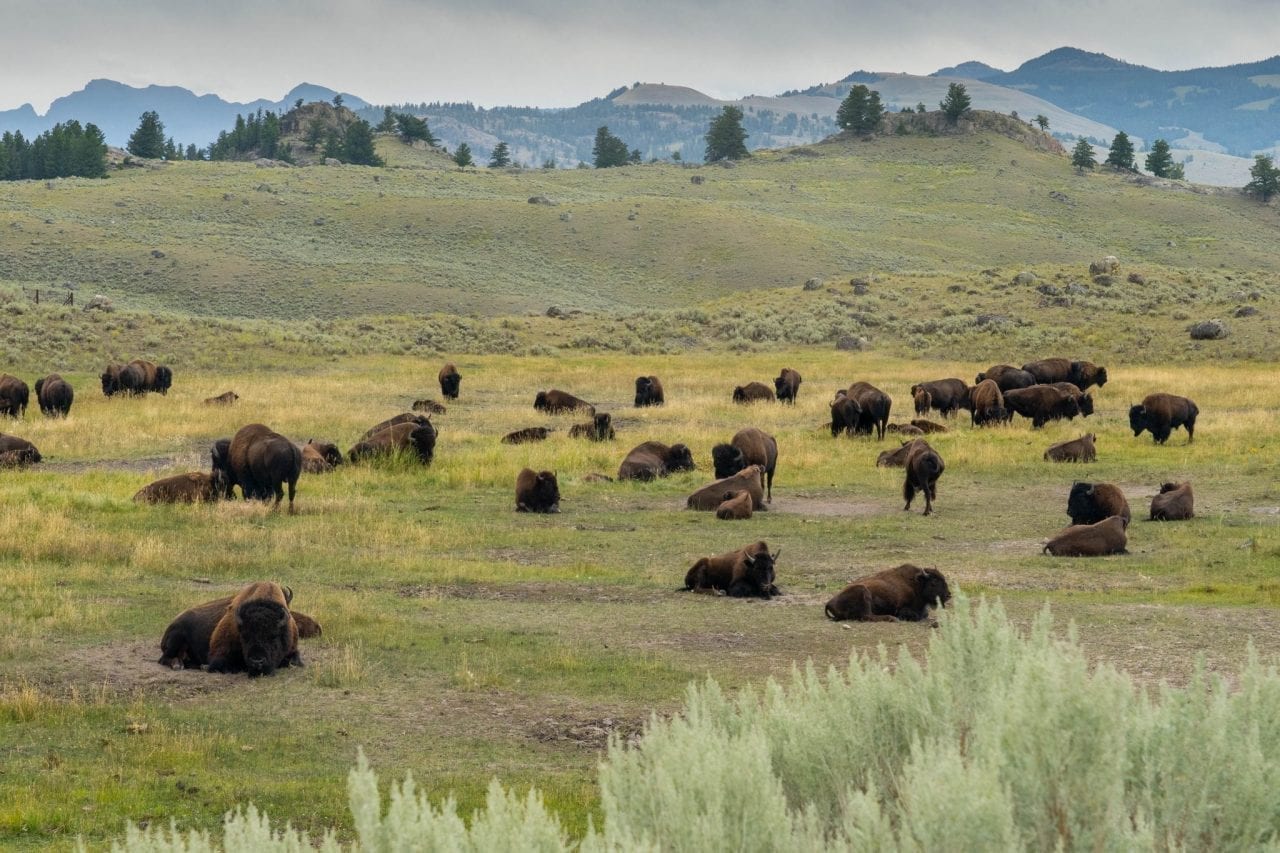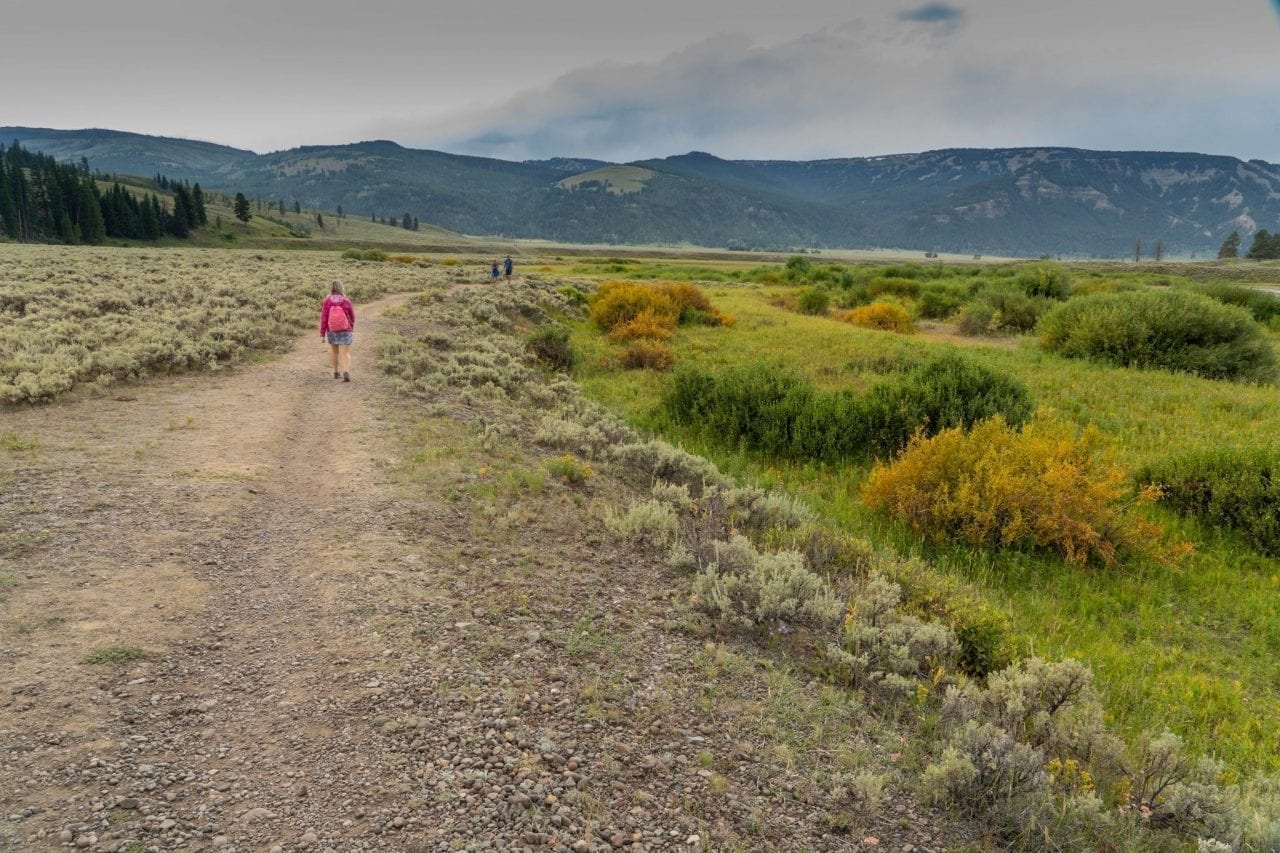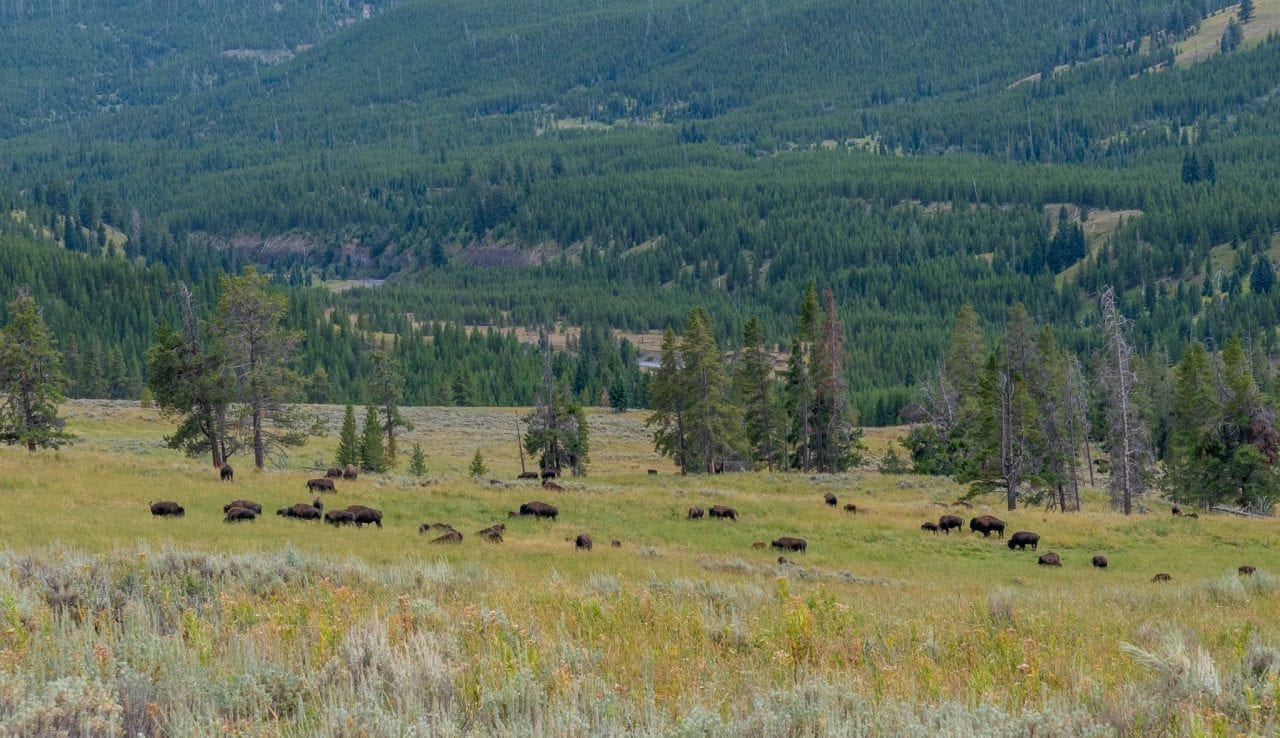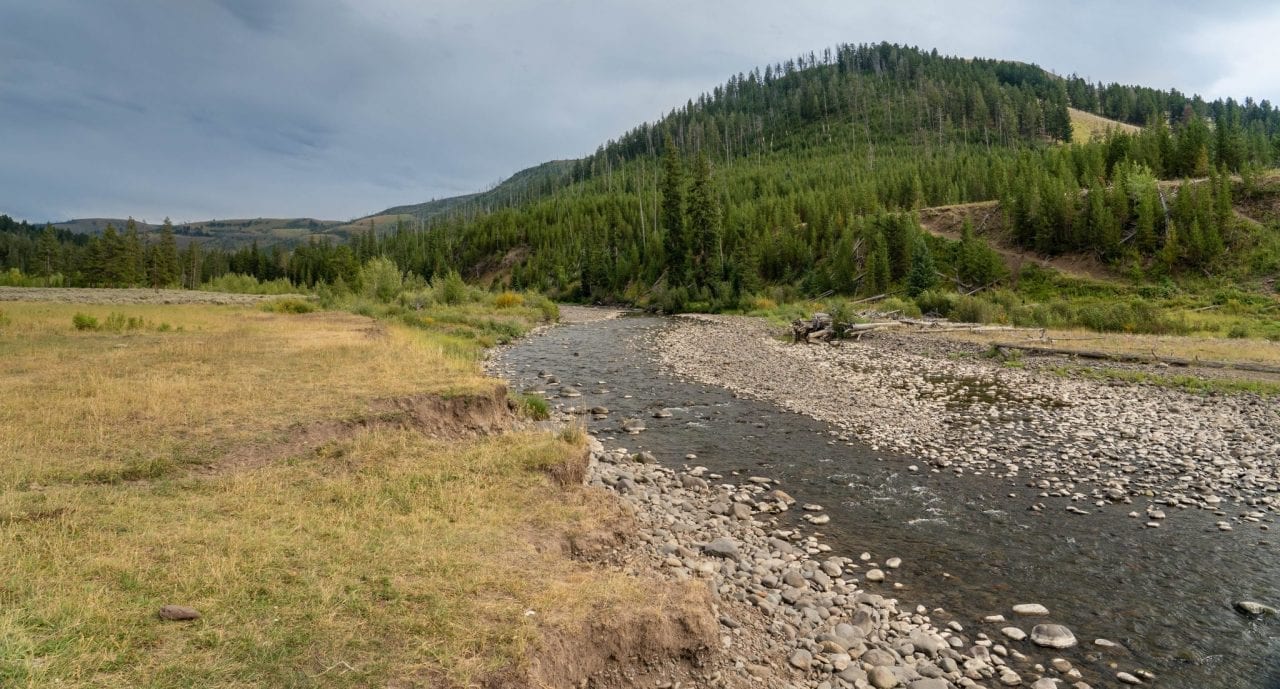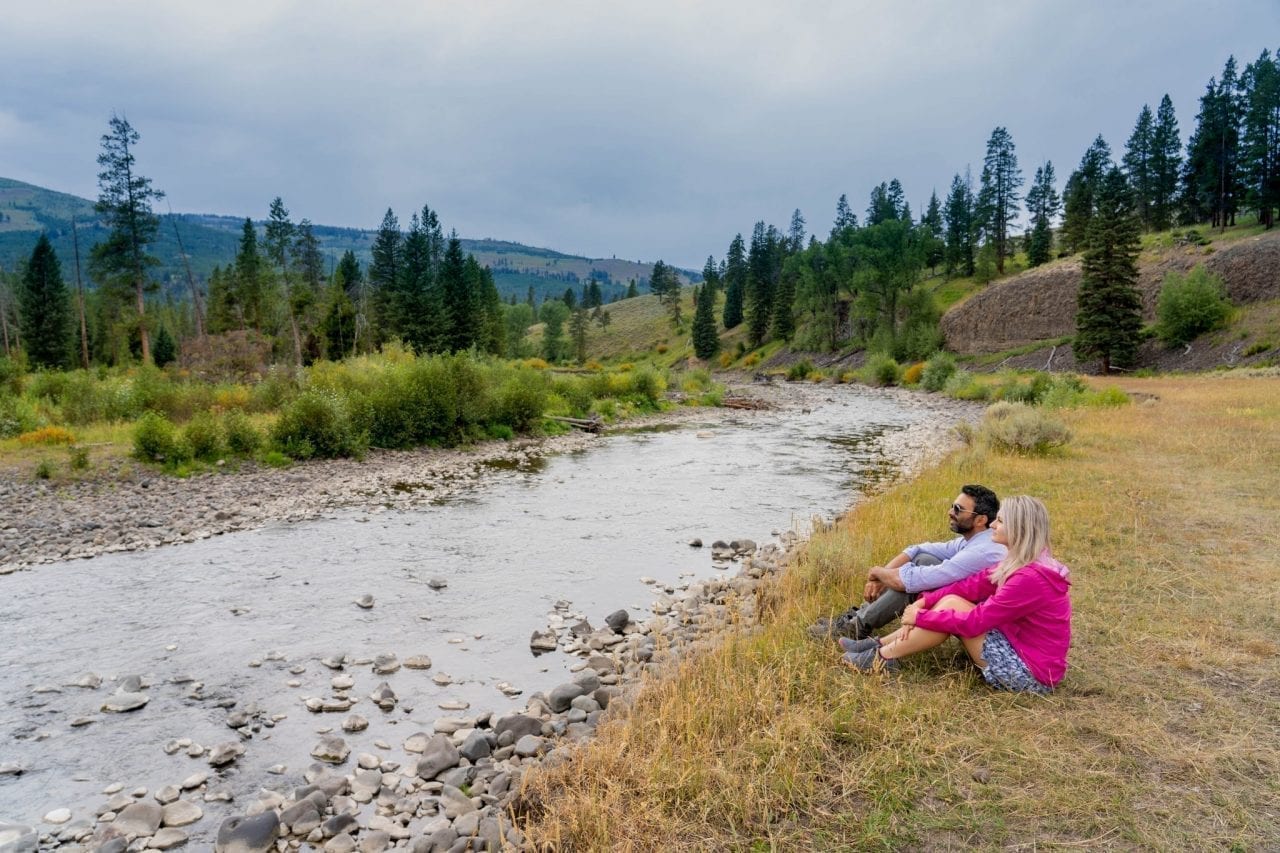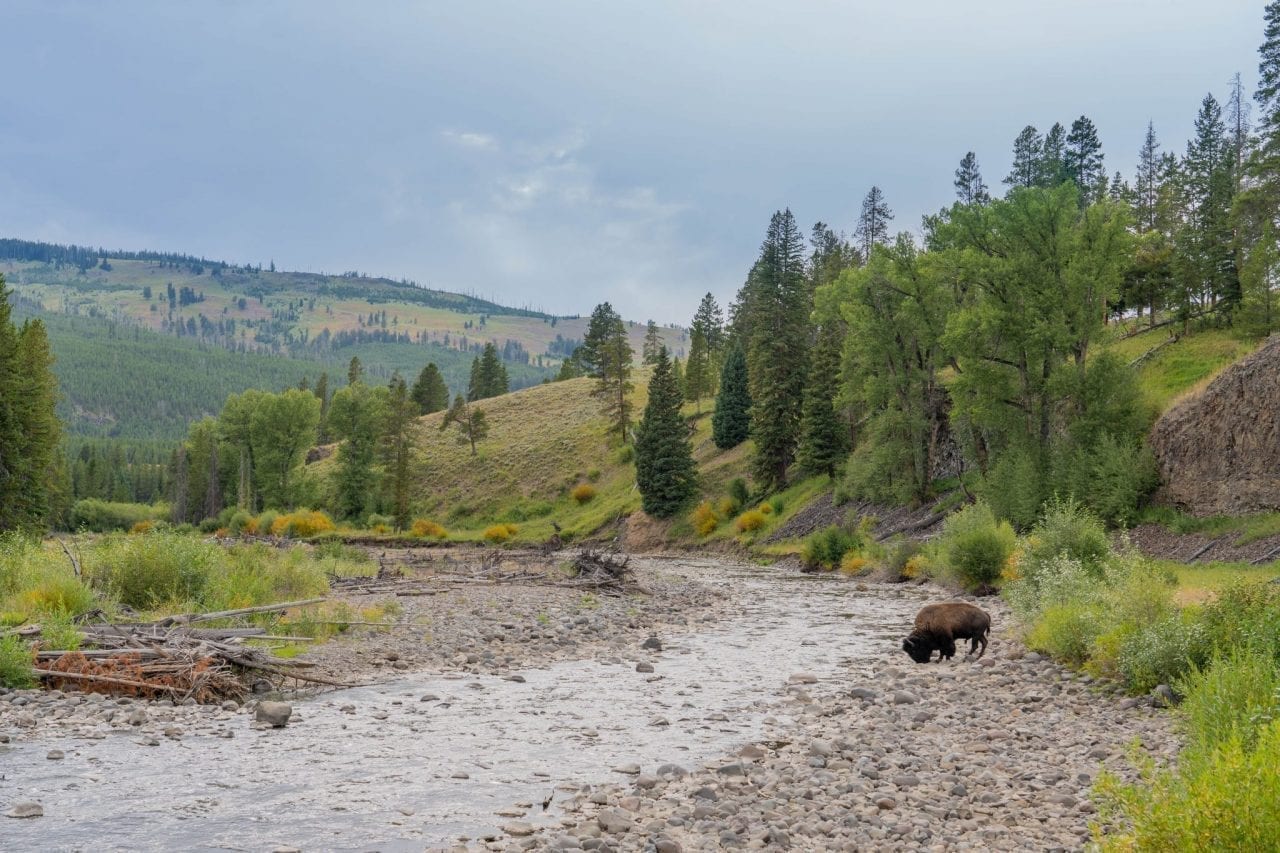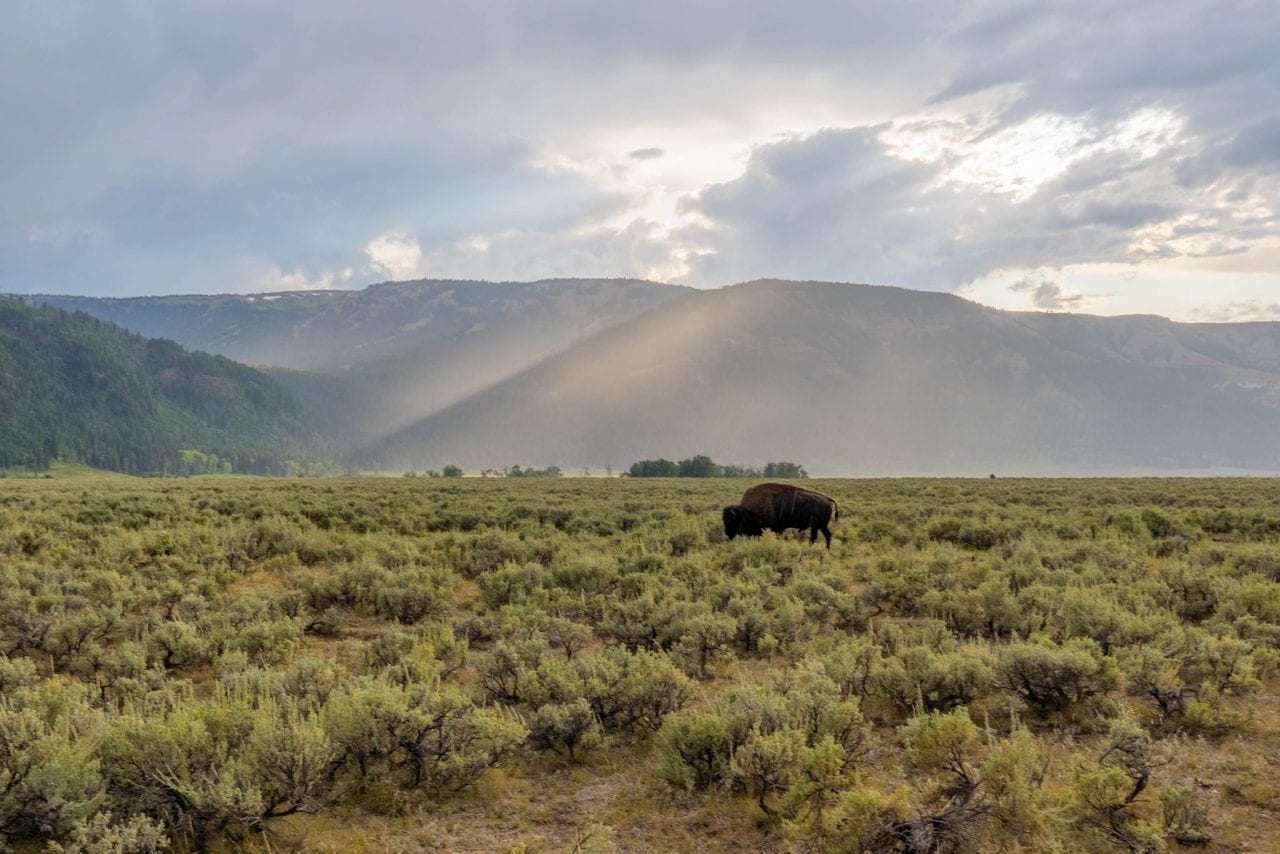 Located in the north eastern section of Yelowstone along the Lamar river,
Lamar Valley
is the
best location in the park to view the local fauna
and flora as it provides a great habitat for many of the park's animals. In addition to the bison that roam this prairie, there are also wolves, bears, elk, and coyote that call this valley home.
Hayden Valley, which is similar valley along the Yellowstone River, is much smaller but offers the same abundance of flora and fauna. It is around fifty square miles just north of Yellowstone Lake.
TOP 5 THINGS TO DO IN YELLOWSTONE
If you are short on time, and are looking for the absolute best things to do in Yellowstone in short amount of time, here are our favorite top 5 things to do based on our own experience:
Grand Prismatic Spring
Grand Canyon
Lamar Valley
Mammoth Hot Springs
Old Faithful
MUST HAVE'S FOR YOUR NATIONAL PARK TRIP
Here are some must have's for your National Park trip – to not only save you money but also for you to have all the information you need, when you need it (i.e. when on a trail with no signal). We found these incredibly valuable during our trip!
National Geographic Guide to National Parks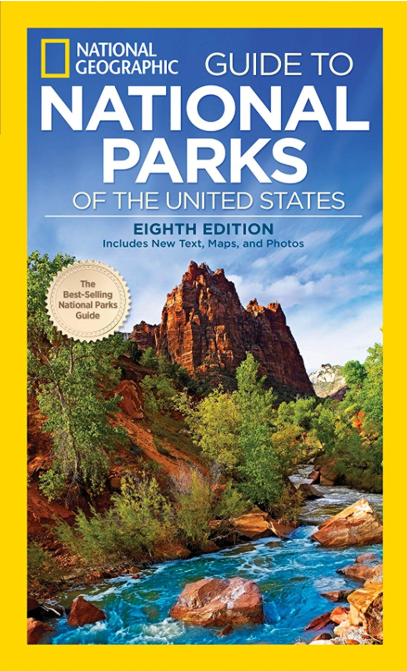 This eight edition of National Geographic's
 496 page guide includes 80 colorful maps and directions to help you make your way through the parks, and includes information on various activities, camping information, and travel tips. Carry this along with you in hard copy during your trip. 
Yes, you can always Google stuff and find things on the fly. But if you are on a trail with no reception, a physical guide will come in handy. Besides, there is some pleasure in the good old way of discovering a new place by reading a book! This guide is a must have for anyone planning to travel to national parks. 
AMERICA THE BEAUTFUL ANNUAL PARK PASS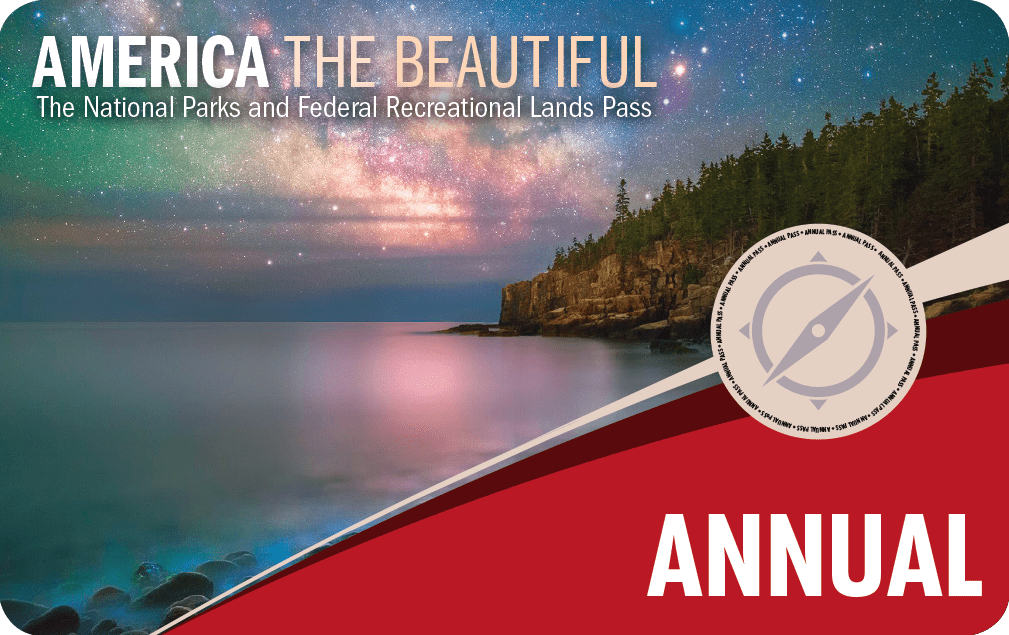 This Annual Pass is a MUST HAVE for any frequent national park visitor. For $80 you get a pass to visit ALL of the national parks with no entry fees for whole year. With entry fees ranging $30-$35 per park, they add up pretty quick! You will not regret buying this. Make sure to order in advance though as a physical card is mailed to you via regular mail.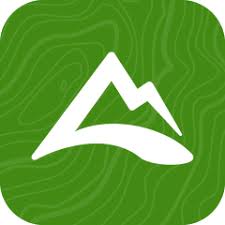 The AllTrails iOS app is a comprehensive database of 75,000+ hiking trail maps around the world. If you buy their "Pro" version subsription, which is $29.99 per year, you can download the maps for offline use. This feature comes in handy when you have no cell phone reception and just want to know basic things like how far have you hiked so far. We highly recommend getting this app.
Are you ready for Yellowstone?
It's hard to fully grasp the picturesque landscapes and the immeasurable beauty that surrounds the Yellowstone River in this park that is shared by three different states. It's a symbol of hope for creatures like the wolves and the Buffalo that were almost eradicated in the 19th century. Yet here they have found a home among the lush green valleys, sparkling rivers, and explosive geysers of Yellowstone National Park. You really have to see it to truely appreciate it!
Here are our other posts covering our visit to Yellowstone National Park. Hopefully these will help you plan your trip and have a memorable visit.
If you have been to Yellowstone, let us know in comments what was your experience like. We would love to hear from you! Hope you loved it just as much as we did!